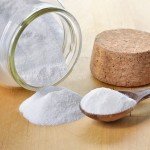 (NaturalHealth365) It is an established scientific fact that one of the key factors in the development of cancer is an acidic environment or terrain. The pH of extracellular fluids surrounding a tumor can be very acidic while the pH of healthy tissue is alkaline.  This is where baking soda can help. (keep reading)
In simple terms, an acidic environment creates a perfect medium for cancer cells to grow.  In fact, in many cases (not all), cancer thrives in an acidic condition.
Cancer cells die in a healthy (cellular) environment
Acidic plasma fluids are created when you ingest foods that are highly acidic such as sugar, refined food, junk food and meats. Unresolved mental and physical stress can also add to an acidic environment by forming specific stress hormones. If you want to prevent cancer – "alkalinity" is the key.
The ideal environment is created and maintained by several factors:
1. A diet of at least 80% raw fruits and vegetables, especially greens like kale and spinach.
2. Consuming approximately 64 ounces of clean purified water every day.
3. Mental and emotional peace and relaxation.
In order to monitor your alkalinity, strips that measure the pH of the saliva and urine can easily be purchased on line or at a natural market. It is best to measure your pH first thing in the morning, upon awakening, before brushing your teeth or drinking any fluids. A healthy saliva reading should be 7.0 and above while the urine should be between 6.4 – 6.8.

Cancer patients have the power to heal – naturally
Once the body is weakened with cancer – it is vital for one to really focus on turning the pH around. Here is a simple recipe that can help you in that process:
8 ounces of purified clean water
1 tsp. baking soda
Juice from 1 organic lemon
Mix and drink on an empty stomach. Do this at least 3 times per day. Promising research conducted at the University of Arizona, department of Pharmacology supports the theory that baking soda holds promise as a natural treatment for breast cancer.
Their research demonstrated that oral intake of baking soda (NaHCO3) selectively increased the pH of tumors and significantly reduced spread of metastatic breast cancer in mice. They concluded, "…the dramatic effect of bicarbonate therapy on the formation of Breast Cancer metastases in this model system warrants further investigation."
Have you ever heard of Dr. Simoncini?
From a clinical point of view, putting this theory into successful practice is Dr. Simoncini from Italy. Dr. Simoncini is a medical doctor specializing in oncology, diabetes and in metabolic disorders. He administers baking soda infusions and also injects baking soda solutions directly into cancerous tumors with very successful outcomes for cancer patients.
When we take an objective and scientific look at the effects of chemotherapy and the 2.1% – 5 year survival rate, the use of a simple therapy like baking soda as a natural treatment for breast cancer is very inviting.
About the Author: Dr. Veronique Desaulniers, better known as "Dr. V" maintained a successful practice – specializing in Bio-Energetics, Meridian Stress Analysis, Homeopathy, Digital Thermography and Chiropractic. After personally overcoming Breast Cancer without the use of chemotherapy, radiation or surgery – Dr. V currently helps to empower women about healing and preventing breast cancer….naturally. For more information about Dr. V's personal Cancer Coaching – visit: BreastCancerConqueror.com