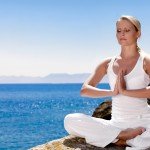 (NaturalHealth365) For breast cancer survivors, recovering and maintaining remission are of utmost importance – especially after enduring months or even years of invasive treatments like surgeries, radiation and chemotherapy. The body takes a beating during conventional cancer treatment and is typically left damaged, worn out and in need of healing therapies both physically and mentally. Many breast cancer survivors turn to complementary and alternative treatments, of which detoxification protocols, prayer and meditation are the most common.
Meditation has long been recognized for its ability to help reduce stress and anxiety in breast cancer patients and survivors. Even mainstream medical doctors recommend alternative therapies like meditation to breast cancer patients, with Time reporting that an estimated 80 percent of all Americans with breast cancer will undergo at least one complimentary therapy after being diagnosed. However, new data has emerged suggesting that the benefits of mindfulness meditation extend beyond the mental state to induce positive biological effects as well.
The connection between healthy telomeres and cancer survival
Researchers from the University of Calgary Department of Oncology and Alberta Health Services' Tom Baker Cancer Centre set out to identify the physical benefits of meditation, specifically on telomeres at the cellular level. Telomeres are proteins at the end of chromosomes that naturally become shorter over time each time a cell divides. Their length is closely associated with the rate of aging and a person's risk of disease and premature death.
Longer telomeres are believed to help protect the body against aging and conditions like coronary artery disease and cancer. While telomere shortening happens naturally over time, it may be accelerated by poor lifestyle choices, oxidative stress, and other external factors, such as radiation and chemotherapy cancer treatments. By preserving a cancer survivor's telomere length, it may be possible to protecting against future disease and the risk of relapse.
Great news: Telomeres are longer in breast cancer survivors who practice meditation
Researchers studied the telomere length of 88 breast cancer survivors for a period of 3 months. Study participants were separated into two groups – one that practiced 12 hours of guided and more than 5 hours of individual mindfulness meditation each week. The control group participated in only a single six-hour stress-management seminar at the beginning of the study.
What the researchers found was both shocking and promising, especially given the short period of study. Women in the meditation group were found to have maintained the length of their telomeres at the end of the 3-month study. In comparison, the control group experienced shortening of their telomeres during the study, indicating that meditation is has measurable physical benefits at the cellular level in breast cancer survivors.
Additional research is necessary to determine how long the physical benefits of meditation last and how much mindfulness meditation is necessary to achieve protection at the cellular level. In the meantime, people who have been diagnosed with breast cancer are encouraged to consider whether mindfulness and meditation could influence their own cancer story in a positive way.
References:
https://www.eurekalert.org/pub_releases/2014-11/ahs-ssc103114.php
https://www.ncbi.nlm.nih.gov/pmc/articles/PMC3370421
https://www.cancer.gov/cancertopics/pdq/cam/cam-cancer-treatment/patient/page2
https://time.com/3555676/meditation-yoga-breast-cancer