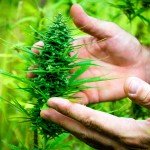 (NaturalHealth365) There is a long list of toxic drugs that are readily available – from pain killers to tranquilizers – as long as you have a prescription. Yet, many of these are known to contribute to heart, liver and kidney damage, among other risks. Meanwhile, the natural herb cannabis is staunchly regulated in most regions, despite a safe track record spanning thousands of years in the treatment of cancer, diabetes, epilepsy and other medical conditions.
Toxic medications are NOT your only solution for pain. Fact: Western medicine will never cure your disease. Their primary focus is the 'management' of your symptoms – that's it! On the next NaturalHealth365 Talk Hour, Jonathan Landsman and John Hicks, MD – a leader in the field of integrated holistic medicine – will talk about the healing properties of cannabis and how this natural substance can be safely used to reduce inflammation, boost immune function and optimize your health.
Simply sign up now for access to our FREE, weekly show by entering your email address and you'll receive show times plus FREE gifts!
An herbal remedy with a long history of safe effectiveness
A major stigma for the medically useful cannabidiol, or CBD, is that it is often confused with THC, another element of the cannabis plant that is used recreationally to achieve a high. But CBD is made from the roots and stems of the plant, rather than the leaves and flowers that yield THC. Unlike marijuana, it is legal in all 50 states and most countries around the globe.
Cannabidiol, or CBD, is the portion of the cannabis plant that is known to have anti-inflammatory, anti-cancer, anxiolytic and neuro-protective properties. As a neuro-protector, CBD fulfills a number of functions, including reduction of radical oxygen species, support of mitochondrial function at the cell levels, and prevention of glutamate toxicity, to name just a few.
As an anxiolytic, CBD offers a wealth of opportunities for developing natural approaches for alleviating pain. Its anti-inflammatory properties enable its effective use in such conditions as rheumatoid arthritis, gastrointestinal disorders ad sleep apnea. CBD has also been used to help people overcome cancer.
A lack of understanding can be quite dangerous to your health
Discover the history of hemp and use of the cannabis plant, as well as the latest research on medical uses of CBD. Learn how promising cannabis is as treatment for a number of illnesses, from mental and emotional stress to Alzheimer's disease.
Western medicine remains clueless about the healing power of cannabis. But, in reality, the science is undeniable and the clinical results are positive. If you know someone suffering with chronic pain – tell them to tune into the next NaturalHealth365 Talk Hour with Jonathan Landsman.
Simply sign up now for access to our FREE, weekly show by entering your email address and you'll receive show times plus FREE gifts!
Find out how cannabis can eliminate pain symptoms naturally – Sun. Feb. 14
This week's guest: Dr. John Hicks, international speaker, author and pediatrician
Dr. Hicks has been practicing integrated holistic medicine for over 35 years, and is known for his innovative approach to chronic disease. He has used objective laboratory analysis in supporting progressive, yet proven, medical and nutritional approaches for physical and emotional well-being.
Dr. Hicks is a well-known researcher and clinician, widely recognized as an expert in the medical use and value of cannabidiol. CBD is known to be useful in providing relief to patients suffering from dysfunction of their immune and nervous systems resulting in pain and negative neurological issues. While research continues to discover the full range of CBD's medical applications, there is already strong evidence that it can take the place of many risky, synthetic drugs in the treatment of a wide range of health concerns.
About the author: Jonathan Landsman is the host of NaturalHealth365.com, the NaturalHealth365 Talk Hour – a free, weekly health show and the NaturalHealth365 INNER CIRCLE – a monthly subscription to the brightest minds in natural health and healing.
Reaching hundreds of thousands of people, worldwide, as a personal health consultant, writer and radio talk show host – Jonathan has been educating the public on the health benefits of an organic (non-GMO) diet along with high-quality supplementation and healthy lifestyle habits including exercise and meditation.