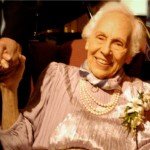 (NaturalHealth365) As many of you may know, I consider Charlotte Gerson, daughter of the great physician Max Gerson, a dear friend. Over the years, Charlotte has contributed greatly to my audio/video educational programs and live events. Today is Charlotte's 93rd birthday and she needs our help.
For several decades, Charlotte has been a tireless advocate of the Gerson Therapy and has promoted the health benefits of a natural lifestyle including lots of fresh (organic) vegetable juices. This lifestyle has given Charlotte tremendous strength and vitality – over the years.
But, since her second fall in 2014, Charlotte has had a difficult time regaining her health and the financial burden is beginning to take its toll. Click here to find out how you can help Charlotte.
Charlotte Gerson talks about recovering from a near-fatal hip fracture
In 2013, Charlotte tripped over an electrical cord in her home and shattered her pelvic bone – which would normally be a 'death sentence'. But, as you will see in the video interview below, Charlotte defied all the odds. Enjoy this incredible testimonial about natural healing!
Charlotte Gerson needs our help
The following is an except taken from a newly-created website: HelpForCharlotte.com about the video (above) and the challenges faced by Charlotte today.  It was written by Charlotte's children, Howard and Margaret Straus:
This might be one of her last interviews. Since her second fall, she likely won't be doing any new interviews anytime soon.
While she was still healing from her first fall, Charlotte unfortunately suffered a second fall in June 2014. This time she broke her femur. She had to be hospitalized, caught a hospital infection and was forced to a long stay in a nursing home.
Everybody who knows Charlotte can imagine how dreadful this was for her.
In the meantime, her home needed to get set up properly with all the equipment, ramps, special bed, special chair and much more. It took a lot of time, money and effort and all she wanted was to come back home to her juices and her good Gerson food.
Today, at age 93, Charlotte has no pain, she is cheerful and is surrounded by lovely young people who care for her around the clock since her family can not be with her all the time.
We do not expect changes in this situation, her health is basically all right, it is just so much harder to recover from this type of injury at her age. Charlotte is indeed feeling the effects of her advancing age. She will require assistance for the rest of her life.
We want Charlotte to be able to stay in her home, with her good food and her good assistance.
With all this being said, this kind of home care is not cheap and money is getting thin. That is why we created this webpage and started The Charlotte Gerson Fundraiser.
We kindly ask you to help Charlotte by giving to the Charlotte Gerson Fundraiser to help keep her in her home with the love and care she deserves.
THANK YOU!
Howard & Margaret Straus
(Charlotte's son and daughter)
Editor's note: To offer your help – simply click here to make a donation to the "Charlotte Gerson Fundraiser." Thank you for your support.