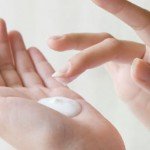 (NaturalHealth365) Did you know that each day when you use your typical skin care products, you may be applying toxins to your skin? And these ingredients can actually make your skin age more quickly.
According to the Environmental Working Group, on average, we use 9 personal care products each day, which exposes us to 126 unique ingredients. In addition, the National Institute of Occupational Safety and Health reported that nearly 900 toxic chemicals are used in skin care and cosmetic products.
How can I reduce my exposure to toxic skin care products?
Take a closer look at the ingredients in your skin care products. There are too many ingredients to list here, but it's important to be aware that many skin care products contain ingredients that have hormone disrupting effects and some are even carcinogenic.
Do not allow yourself to be fooled by slick advertising campaigns or deceptively-produced product labels. And, above all else, avoid ingredients such as triclosan, parabens, and synthetic fragrances. For sun protection, use zinc oxide-based sunscreen instead of oxybenzone.
The best way to stop these careless companies from hurting you
Make no mistake – these toxic products threaten human health – every time they are used. When your skin is dull, dry, discolored or you have skin problems such as eczema, acne, rosacea or premature aging, it's a sign that something is out of balance within your body.
But, thankfully, we have the power to reject these harmful products by discovering safer – much more pleasant – ways to care for our skin.  In fact, if you're looking for some great ways to regain your natural, beautiful skin, we've got some great news for you!
Join us for The Glowing Skin Summit from April 27 – May 4th.  This FREE, online event will teach you the best natural (and least invasive) treatments for glowing skin and vibrant health!
Click here to register for the Glowing Skin Summit today!
Which skin care products are best to use?
The most effective natural and organic skin care products contain whole-food nutrients from botanicals. Studies show that the body can absorb nutrients from whole food much more effectively than from isolated components.
This is mainly because whole food nutrients contain complex and balanced nutrients that work in harmony with the body. For example, black currant contains a high source of vitamin C (a powerful antioxidant), gamma linolenic acid (an omega-6 essential fatty acid) and potassium which all work together to prevent acne, reduce free radical damage and stop wrinkles associated with premature aging.
Protect your health: Find organic skin care products that offer amazing results
Organic skin care products can support the skin's healing functions, which can help you solve skin problems while beauty product chemicals will likely cause them. Unnatural chemicals are considered foreign substances by the body, which will react in an attempt to eliminate them.
If the body is not able to eliminate the toxins due to prolonged usage, they will accumulate in the body leading the way to certain health conditions. The rule of thumb is that anything you put on your skin you should be able to eat.
Common organic ingredients you want to look for in skin care products are:
Natural oils such as coconut oil, sweet almond oil, apricot kernel oil and sesame oil – which have many beneficial properties for the skin.
There are several botanicals that have been proven throughout the ages such as chamomile, comfrey, lavender, frankincense, rose, black currant, myrrh, melissa, geranium, seaweeds and many more.
Whatever substance you use ought to be derived from organically grown plants and may be included in the skin care products in the form of herbal extracts, infusions, essential oils or hydrosols.
Bottom line: If you want better skin and want to protect yourself and loved ones from common skin health traps, educate yourself – in order to make an informed decision.
35 top experts reveal the secrets to glowing skin and vibrant health. Join us, at the Glowing Skin Summit, online from April 27 – May 4! Best of all, this event is FREE!
Click here to register for the Glowing Skin Summit today!
About the author: Dr. Trevor Cates was the first woman licensed as a naturopathic doctor in the state of California and was appointed by former Governor Arnold Schwarzenegger to California's Bureau of Naturopathic Medicine Advisory Council. Also known as "The Spa Dr.," Dr. Cates sees patients at world-renowned spas and in her Park City, Utah private practice with a focus on anti-aging, hormone balance and glowing skin. She has a regular iTunes podcast called THE SPA DR: Secrets to Smart, Sexy and Strong and host of the Glowing Skin Summit.