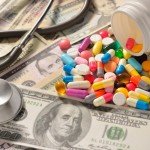 (NaturalHealth365) The news probably comes as no surprise to consumers already suspicious of big pharma: The Daiichi Sankyo Co Ltd, along with its U.S. subsidiary, has been ordered to pay $39 million to the federal government and individual state Medicaid programs.
The judgment comes in answer to a whistleblower lawsuit filed by former pharmaceutical salesperson Kathy Fragoules that accused the companies of paying kickbacks to physicians for prescribing its drugs. And, get this, the company CEO, Joji Nakayama has a vision of "becoming a Global Pharma Innovator." (is bribery part of his vision?)
Specifically, the lawsuit accused the pharmaceutical company of violating the False Claims Act through the use of lavish meals and speaker program honoraria as avenues for kickbacks to induce physicians to prescribe the drugs Azor, Benicar, Tribenzor, and Welchol.
The dark side of selling drugs exposed
The paybacks to doctors were cloaked as "speaking fees," but were actually financial kickbacks for helping to promote the companies' brands to patients. According to the lawsuit, the company hosted programs between 2004 and 2011 for the expressed purpose of lining the pockets of physicians who were willing to boost sales.
The programs promoted by the companies as 'medical or education programs,' for which speaker fees would be understandable, but were actually nothing of the sort. Instead, doctors were paid to speak at dinners attended by their own staff and, sometimes, even their spouses.
Often, the so-called speeches given were no more than repeated briefings and reviews of the same topic areas throughout the meeting or dinner. There are even reports of lavish dinners being held at upwards of $140 per plate.
And, this is not an isolated case.  In fact, over 2 years ago, Jonathan Landsman, editor of NaturalHealth365  exposed the "new profit plan" of big pharma – and it's not a pretty picture.
The Daiichi company seems happy with their behavior
Founded in Japan, the Daiichi company is a global corporation providing services and products to more than 50 countries worldwide. It has American headquarters in New Jersey and employs 30,000 employees worldwide – promoting itself as an innovative entity.
Despite this recent public blow to its brand reputation, the pharmaceutical company insists it has a full pipeline of emerging medications, including a new blood clot pharmaceutical and a medication targeting bone mineral loss and osteoporosis. Following the lawsuit, Daiichi spokespersons stated the company would continue its mission of helping people live healthy lives.
Don't believe the marketing campaigns of big pharma.  It's a medically-proven fact, pharmaceutical drugs can "wreck lives."
Drug companies continue to violate public trust
The multi-million dollar settlement was not the only penalty Daiichi Sankyo will be paying. It must also make a number of internal changes as a result of the lawsuit. The company must now abide by a corporate integrity agreement which stipulates that it will create and implement compliance programs to keep ethical failures from recurring in the future.
Such agreement are becoming more commonplace in the pharmaceutical industry and the U.S. government is expected to be cracking down more heavily on companies for practices that are identified as unscrupulous or illegal. Speaking of the lawsuit, Carmen M. Ortiz, U.S. Attorney for the District of Massachusetts, stated, "Drug companies are prohibited from using lavish entertainment and padded speaker program payments to induce physicians to prescribe their drugs for beneficiaries of federal health care programs. Settlements like this one show that the government will continue to pursue health care companies that use kickbacks to promote their products."
These drug companies are clearly driven to push synthetic (toxic) chemicals into us. Our best defense is to avoid pharmaceutical medications by focusing our attention on healthy foods, supplements and lifestyle habits that create optimal health. If you're suffering with any serious health condition – find a holistically-minded healthcare provider to help guide you to a full recovery.
References:
https://www.drugdangers.com/news/02/17/2015/daiichi-sankyo-must-pay-39-million-for-doctor-kickback-claims
https://www.daiichisankyo.com/about_us/who_we_are/index.html