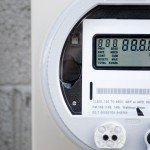 (NaturalHealth365) As if the actions of the National Security Agency (NSA) and government-sanctioned surveillance cameras everywhere weren't already making us feel like 'big brother' is watching over our every move; now there are digital, so called smart meters, monitoring every detail of our lives.
In an effort to intimidate the uneducated public, marketing experts came up with the term 'smart meter' to make the average person think this new technology is a good thing.  But, as we dig a little deeper, we see local utility companies are surreptitiously replacing old analog meters with these new digital devices – without our knowledge or consent.
How would you feel knowing that these digital devices measure and record – with minute detail – your household energy usage, including when you use a refrigerator, what food you eat and when you wash your clothes.  You say 'that's impossible'?  (Think again)  This invasive technology can even tell when you're home (or not) and which electronic device you're using – any time of the day.
Homeowners get the surprise of a lifetime from a forced electrical 'upgrade'
In classic dictatorial fashion, the utility companies install these meters without homeowner knowledge or consent.  In fact, if a resident wants to remove this device from their own home – utility companies threaten them with fines or the possibility that power will be cut off.  Clearly, based on their actions, most energy companies are driven by a global agenda to create a wireless grid funded by government funds.  Unless we stand up for our rights, they will take advantage of them.
And, even though power companies promise a 'savings' on energy, many homeowners are reporting a huge increase in their monthly electrical bill – after installation. To make matters even worse, these devices are being installed by unskilled workers – often trained for only couple weeks – and residents are seeing their homes catch fire, causing massive property damage. Of course, the utility companies deny this is being caused by smart meters; but millions of people are left feeling as though this wireless technology is threatening their health and safety.
The public is being blasted with cancer-causing microwave radiation
We, at NaturalHelath365, are very concerned about the many smart meter dangers – and will continue to highlight the significance of this issue.  For example, many people don't realize that smart meters constantly pump out a pulsed surge of microwave radiation with every transmission of data to the utility companies.  This cancer-causing energy can go through walls and the human body – causing all kinds of health issues including headaches, insomnia, brain damage and autoimmune-related health problems.
On the surface, the 'dark side of wireless technology' is barely noticeable.  But, these invisible disturbance to our inner electrical well-being are costing us dearly. In my opinion, after spending hundreds of hours in research on this topic, electromagnetic pollution represents one of the greatest threats to life on this Earth.
There is a way to 'take back your power'
Many people are fed up with corporate greed and its hunger to control every aspect of our lives.  With respect to the smart meter issue, the 'anti-smart meter' movement is growing rapidly – throughout the world.  The first step toward any significant change comes through education and I highly recommend you see the documentary film, "Take Back Your Power" – created by Josh del Sol, which details the severity of the problems surrounding smart meters and, most importantly, shows you EXACTLY what to do to protect you and your family from harm.
The film is easy-to-understand and has motivated thousands of people to take action as soon as they're done watching this inspirational film. Back in May of 2014, NaturalHealth365 awarded Take Back Your Power – 'Film of the Year'.  Check out this riveting trailer of the movie – below:

Del Sol believes that around a million people are now actively protesting and resisting smart meters throughout North America. There's also active resistance in Europe. However, despite these protests, the corporately-controlled mainstream media refuses to cover this issue – for obvious reasons.
Utility companies are being put on legal notice: Their actions will NOT be tolerated
Some of those resisting digital meter technology, in the United States, are encountering pressure from gas and electric companies. Not surprisingly, utility companies like, Pepco have threatened residents by cutting the power off to anyone resisting a smart meter installation.
Searching on the internet, you can easily find a number of videos about how Pepco employees forced their way onto private property and into homes to install these devices. In fact, some utility workers have even called the police to 'subdue' homeowners as they do their work.  Needless to say, this forced compliance has many citizens pissed off.
Activist Chris Turner is pushing for an "Opt Out" clause in the Washington DC area, which would allow citizens to retain their old analog meters without penalty. Keep in mind, when the utility company charges you a 'fee' to NOT install a smart meter – that's called extortion!
Some states such as Maryland already provide for this choice due to active citizen protest and resistance. Thankfully, the people are waking up and with continued effort we will see more states do right by its citizens and stop this madness before it's too late.
References:
https://www.takebackyourpower.net/news/2014/08/05/spiegel-de-us-citizens-opposed-to-electricity-meter
https://www.takebackyourpower.net