Breaking NEWS: IV vitamin C research approved for COVID-19, multiple studies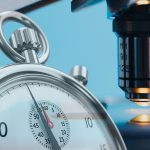 (NaturalHealth365) As the coronavirus continues to spread, so does the misinformation surrounding this health crisis.  No doubt, if you've been watching the mainstream news, it's difficult to differentiate between what's real and what's "fake news."  But, the saddest part of all this is: while people are panicking about the spread of COVID-19, there's been little coverage of what scientists are studying for the treatment of this virus – especially as it relates to IV vitamin C.
Many people will be surprised to discover that it's been reported that intravenous (IV) vitamin C is being used throughout China to help combat the COVID-19 coronavirus. Not only is it being used for treatment, but it's being used for prevention, too!
In fact, three new IV vitamin C research studies have been approved to allow medical professionals and scientists to take a better look at how vitamin C is working in patients affected by the virus.
IV vitamin C studies look promising, but Big Pharma-controlled media outlets BLOCK the news
Currently, three different studies have been approved in China on the use of IV vitamin C to help fight the coronavirus. The first approved study included giving between 12,000 and 24,000 milligrams a day of IV vitamin C, with the doctor involved urging the use of vitamin C to help prevent COVID-19 as well.
On February 13, another clinical trial involving IV vitamin C was announced within China. In this study, the plan is to give 6,000 mg per day for moderate cases and 12,000 mg per day for more severe cases. The heads of this study also noted that they'd like to see studies done on oral vitamin C as well since it can be applied to even more patients and those who are still at home.
Yet another research trial on intravenous vitamin C for the treatment or coronavirus was announced on February 21. Reporting on these new studies, Dr. Richard Cheng noted that vitamin C is also promising for the prevention of COVID-19.
Do NOT ignore the health dangers linked to toxic indoor air. These chemicals - the 'off-gassing' of paints, mattresses, carpets and other home/office building materials - increase your risk of headaches, dementia, heart disease and cancer.
Get the BEST indoor air purification system - at the LOWEST price, exclusively for NaturalHealth365 readers. I, personally use this system in my home AND office. Click HERE to order now - before the sale ends.
While people have died from the outbreak, there's been little reporting on the use of large doses of IV vitamin C. Vitamin C is involved in not only killing viruses but the prevention of virus replication, which can reduce the severity of the virus on patients.
Of course, it's not surprising that the media has labeled vitamin therapy as "false" information.  In fact, hospital-based, physician-directed use of IV vitamin C has been discredited, marginalized, or completely suppressed.
Protecting yourself with higher levels of vitamin C
While medical science continues to obsessively search for a drug or vaccine "solution," vitamin C already exists as a clinically-demonstrated, plausible method for preventing and treating COVID-19.  And, although it may be difficult to have access to IV vitamin C, you can protect yourself against the virus by increasing your oral intake of vitamin C – in both powder and liposomal forms.
In addition, go ahead and increase your intake of foods that contain vitamin C, such as organic papayas, asparagus, broccoli, and red peppers.  However, keep in mind, you will likely need much higher amounts of vitamin C to reap those antiviral benefits.
And if you think you're already getting sick, vitamin C gets depleted when the body begins its inflammatory response. A supplement is likely the best option to get the amount of vitamin C you need.  So, when feeling sick, aim for an "initial" amount of 3,000 – 6,000 mg to give your body the boost it needs.
And, remember, the sicker you are, the more vitamin C you'll need – throughout the day – to counter the negative effects of oxidative stress caused by free radicals.
Sources for this article include: