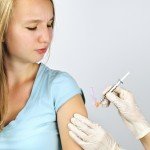 (NaturalHealth365) As you've probably heard, bills in dozens of states regarding childhood immunizations are currently calling for mandatory vaccinations. In an alarming push, the bills and their proponents aim to remove the current consumer right to refuse vaccines for themselves and their children for philosophical or religious reasons. Oregon is one of those states making this push.
In response, Oregonian and board-certified pediatrician Paul Thomas, M.D. appeared in front of the State Senate Committee on Health Care in February of 2015. He spoke regarding Bill SB 442, which seeks to remove religious and philosophical exemptions to vaccines in Oregon.
Forced vaccines would be "a travesty"
In this powerful video (below) covering his testimony, Dr. Thomas calls the bill and its intentions "a travesty." As a doctor representing 11,000 patients in a practice that sees 500 new parents and babies each month asking for informed consent regarding vaccines, he is deeply troubled about how this bill will impede his ability to educate people about vaccine risks.
Dr. Thomas is one of the few board-certified pediatric fellows practicing in Oregon. He also has additional certification in Integrative Holistic Medicine as well as Addiction Medicine and is the founder of the Pediatric After Hours Clinic at Emanuel Children's Hospital (the clinic is currently known as the Pediatric ER.) From 1988 to 1993, Dr. Thomas also educated medical residents and students at this hospital.
Editor's note: The VACCINE WORLD SUMMIT is available today. This summit features 5 of the brightest minds in Western medicine talking about vaccine safety and effectiveness; CDC scientific fraud; Merck vaccine legal issues + everything you need to know about infectious diseases.
This event reveals lifesaving information for every concerned healthcare provider and individual – especially parents. To access this program – simply become a NaturalHealth365 subscriber by entering your email – using the link below:
https://www.naturalhealth365.com/recommended-resources/
How could vaccines be poisoning our children?
Dr. Thomas also addresses the fact that the hepatitis B vaccine is given routinely to newborns despite the fact that the amount of aluminum in it is 15 times the allowable limit for babies. The only persons who would need the hepatitis B vaccine would be mothers who test positive for the disease; this accounts for less than 1% of the U.S. population.
In effect, the state of Oregon (and others with similar bills) advocate poisoning the other 99% of people with an unnecessary hepatitis B vaccine, and it will be mandated by law if the bill passes. Thomas backed up his statements with peer-reviewed studies linking toxic aluminum exposure to autism and brain damage.
The connection between the hepatitis B vaccine, aluminum and autism
Dr. Thomas also referenced a Norway study tracking folate intake and autism in 85,000 pregnancies over 6 years. Norway had a 1 in 1,000 rate of autism, compared with the U.S. rate of 1 in 100 at that time. (The autism rate in the U.S. is now a staggering 1 in 50). So, what's the difference between the two countries? For one, Norway does not administer the Hepatitis B vaccine to newborns as the U.S. does.
Paul Thomas M.D. is currently seeing more than 1,000 kids in his practice who are at least 3 years old, and he has seen no new cases of autism; this as compared with his U.S. peers seeing 1 out of 50 on the spectrum.
Despite propaganda to the contrary, it's clear that some childhood immunizations do correlate with increased rates of autism. Dr. Thomas calls for more studies, but his powerful testimony adds to a mountain of evidence showing the dangers of vaccines. To force the public to take them without more research would indeed, in Dr. Thomas' words, be "a travesty."
References:
https://www.youtube.com/watch?v=aNQVdOx87Ak
https://vaccineimpact.com/2015/dr-paul-thomas-m-d-preserve-medical-freedom-vaccines-linked-to-autism
https://ajcn.nutrition.org/content/96/1/80
https://www.ncbi.nlm.nih.gov/pubmed/21058170