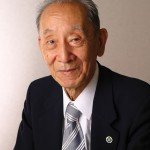 (NaturalHealth365) The natural health community lost a friend, innovator and tireless leader with the recent passing of Michio Kushi on Dec. 28, 2014. He was 88.
As a Japanese scholar, Kushi introduced the concept of modern macrobiotics to the United States back in the early 1950s. His dream to change the way health-conscious consumers would select, prepare and eat foods will live on through his legacy of teachings, organizations and published works.
Thousands of people give thanks to the Kushi Institute
Kushi is credited, along with his first wife Aveline, with founding the Kushi Institute – which is dedicated to promoting his philosophies of healthy living, particularly the promotion of a macrobiotic diet and natural living. The macrobiotic diet identifies organic whole grains as a staple food, along with the addition of other foods such as locally sourced vegetables. The way of eating strictly avoids the consumption of highly processed and refined foods, as well as most animal products.
The Institute has spearheaded the training and education of future macrobiotic teachers, counselors and chefs throughout the world.
A division of the Kushi Foundation, Kushi Institute has grown into what many in the natural health community consider to be the leading macrobiotic educational center in the world. In addition to its home facility in Becket, Massachusetts, the Institute has affiliate organizations in London, Amsterdam, Antwerp, Florence Lisbon, Barcelona and other European cities.
Michio Kushi: A pioneer for macrobiotics around the world
Kushi is well-known on a global level, having presented at conferences – worldwide – on natural health, spiritual development, food and disease prevention. In addition, he was a sought-after expert on the macrobiotic diet and healing the body naturally.
Kushi was a very early proponent of the macrobiotics way of eating, promoting the need for reliance on plant-based, rather than animal-based, diets at a time when such thinking was 'groundbreaking.' In addition to his keen interest in natural health, Kushi was very focused on bringing together eastern and western philosophies.
Macrobiotics provides a practical path toward world peace
Early in his career, Kushi became intent on searching for routes to lasting peace that eventually led him to believe the solution was related to healthy lifestyles (diet) and spirituality rather than politics, conflict and war. The development of this philosophy was likely spurred during his earlier years spent in Japan where he is said to have been profoundly affected by the bombings of Hiroshima and Nagasaki.
At first, his interest seemed to lean toward politics and its potential for bringing about worldwide peace. During this period, he discussed his philosophies and ideas with many of the great scholars, statesmen and thinkers of the time, including Albert Einstein and Thomas Mann.
His lasting message soon evolved into one of diet as a means to a healthy life and widespread peace, a point he made repeatedly in lectures, teachings and dozens of books.
The natural health food industry will remain eternally grateful to Micho Kushi
In the early 1960s, this interest led him to become the co-founder of the Erewhon brand of natural foods, opening a store of the same name. The company's focus was on selling such products as tofu, brown rice, tarmari soy sauce and other staple foods of the macrobiotic diet.
His interest in bringing together the eastern and western ways of thinking continued as well, and in the early 1970s, he, his wife and his students founded the East-West Journal, along with the East-West Foundation, dedicated to macrobiotic research as well as cross-cultural thinking and understanding.
Michio Kushi passed away peacefully at home, surrounded by his wife Midori and sons Norio, Haruo, Phiya, and Hisao.
References:
https://www.kushiinstitute.org/honor-michio-kushi
https://www.michiokushi.org/bio.php
https://www.nytimes.com/2015/01/05/us/michio-kushi-advocate-of-natural-foods-in-the-us-dies-at-88.html?_r=0