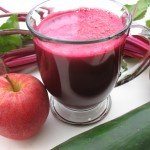 (NaturalHealth365) A staggering 31% of Americans have high blood pressure, according to a Centers for Disease Control report released in 2014. However, a recent study by researchers at Queen Mary University of London has shown that drinking just one cup of beet juice per day can lower blood pressure significantly.
The benefits of beet juice are due to its high content of a compound called inorganic nitrate, or dietary nitrate.
Beet juice shown to have powerful healing abilities
Just 250ml of beet juice was shown to reduce blood pressure by around 8/4 mmHg, according to the study. This is significant because each 2mmHg blood pressure increase raises the likelihood of fatality from stroke by 10% and heart disease by 7%. Most anti-hypertensive drugs only reduce blood pressure slightly more (on average, 9/5 mmHg.) but have a long list of negative side effects associated with its usage.
These findings indicate that dietary nitrate is an easy, effective and affordable blood pressure treatment that yields similar results to drugs.
Funded by the British Heart Foundation and published in the American Heart Association's journal Hypertension, this Queen Mary University of London double-blind Phase Two study tested patients ranging from 18 to 85 years old. Half received anti-hypertensive drugs without reaching their optimal blood pressure, while the others had high blood pressure but were not yet taking any medication.
Half of the patients randomly received beet juice, the others a placebo for a total of 8 weeks. The patients who received beet juice experienced a 10% reduction in arterial stiffness and a 20% improvement in their blood vessel dilation capacity. Such changes are linked with a substantial reduction in the risk for heart disease.
And, just for the record, the placebo group experienced no health improvements during the study. Also, previous research has shown that persons for whom medication did not help also benefited from drinking beet root juice daily.
The health benefits of beet juice are crystal clear
Lead author of the study Professor Amrita Ahluwalia points out that despite heart and blood vessel diseases (and resultant heart attacks and strokes) being the main causes of deaths worldwide, some basic lifestyle changes can dramatically improve heart and blood vessel health for everyone. A daily inorganic nitrate dose such as a glass of beet root juice is nearly as effective as drugs in many cases. Of course, eating more leafy green vegetables is a key to better health in these areas as well.
Daily dietary nitrate consumption produced no adverse side effects. However, just two weeks after the study had completed (with no further beet juice consumption), patients' blood pressure levels returned to unhealthy numbers.
This study shows once again that simple daily lifestyle changes can yield huge positive health benefits. Controlling an illness through non-clinical means is always a win for the patient.
Bottom line, the benefits of beet juice and eating more vegetables has almost the same level of effectiveness as taking most blood pressure medications, and it's time to spread the word. Natural healing is the way to go.
References:
https://www.cdc.gov/bloodpressure/facts.htm
https://www.qmul.ac.uk/media/news/items/smd/31048.html
https://www.medicalnewstoday.com/articles/288229.php
https://www.wsav.com/story/27894704/daily-beet-juice-lowers-blood-pressure-for-high-blood-pressure-sufferers
https://www.prnewswire.com/news-releases/daily-beet-juice-lowers-blood-pressure-for-high-blood-pressure-sufferers-289185391.html