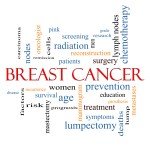 (NaturalHealth365) Who gets triple negative breast cancer? While anyone can, triple negative breast cancer (TNBC) tends to affect younger people, ages 40-50, African Americans and Hispanics and those carrying the BRCA1 gene.
Unlike other breast cancers that involve hormone receptors and HER2 receptors, this aggressive form of cancer relies on genetic therapeutics aimed at repairing celluar DNA and keeping epidermal growth factors from sending cellular signals. While conventional treatments exist they remain controversial and are not without harmful side effects. But, recent studies highlight the promising effects of curcumin and other Chinese medical botanicals on these particular cancer cells.
Curcumin shown to be highly effective at killing TNBC cells
A study that comes to us from China highlighting the advanced benefits of curcumin – the biologically active therapeutic agent in turmeric. This medicinal compound has been shown to induce programmed cellular death in triple negative breast cancer cells.
By inhibiting EGFR expression, the epidermal growth cells that are known to over-express with this tenacious form of cancer, curcumin circumvents otherwise lethal cells.
Will Traditional Chinese Medicine become the 'standard of care' for cancer patients?
Targeted botanical medicines are currently in clinical trial and the results look promising. I predict, in the near future, we're going to see a broader-based acceptance of Chinese medical combination formulas within conventional cancer treatment facilities. Long used in Chinese medicine and in my own clinical practice, Traditional Chinese phyto-medical formulas incorporate several herbs that mutually enhance one another's active constituents while protecting patients from potential side effects that could be elicited by consuming certain herbs in their singular form.
A promising combination formula which includes the therapeutic mushrooms Trametes versicolor, Ganoderma lucidum and Phellinus linteus, along with scutellaria, astragalus and curcumin has been shown to reduce cancer cell growth and improve cancer cell death. The study conducted by Cancer Research Laboratory, Methodist Research Institute, Indiana University Health published these results in Oncology Reports putting integrative and Chinese medicine in the very essential light cancer patients deserve.
Because triple negative breast cancer is known to metastasize and has tumors that grow more rapidly, this combination could be considered instead of patients subjecting themselves to risky inconclusive treatments that include immune-weakening side effects.
Nature Reports reveals that as genetic sequencing studies improve, so could the subgroup detection of triple negative breast cancer. By understanding how genetic subgroups behave, more individualized cellular treatments may come to exist in both conventional and functional medical research efforts.
Are you being properly tested for breast cancer?
Last week, I discussed how diagnostic mammogram testing has failed (miserably) to assist those concerned about cancer and even put healthy women in harm's way. This is especially important if you carry genetic mutations for breast cancer.
The studies I highlighted indicated that genetic dispositions to certain breast cancers can become negatively influenced when persons subject themselves to mammography. If you're a carrier of any genetic mutations related to breast cancer, you may want to consider the use of an integrative cancer specialist for your treatment options.
About the author: Christine M. Dionese L.Ac, MSTOM is an integrative health expert, medical journalist and food writer. She's dedicated her career to helping others understand the science of happiness and its powerful effects on everyday human health. Christine practices, writes and speaks on environmental functional medicine, epigenetics, food therapy and sustainable living.
References:
https://www.ncbi.nlm.nih.gov/pubmed/23023821
https://www.cancernetwork.com/triple-negative-breast-cancer/triple-negative-breast-cancer-post-genomic-era
https://www.nature.com/modpathol/journal/v24/n2/full/modpathol2010200a.html
https://www.ncbi.nlm.nih.gov/pubmed/22842551