Coming Up:
Chelation – The Pros and Cons
Our Guest: Dr. Thomas Janossy is a pioneer in the area of natural detoxification, anti-biofilm strategies and anti-aging – with a special interest in neurodegenerative disorders like Alzheimer's and dementia. After researching ketones at Sunnybrook Health Science Center, University of Toronto, Dr. Janossy worked as a neuroscientist researching the brain at the Hungarian Academy of Sciences, Institute of Experimental Medicine. By now, I'm sure you can appreciate how important detoxification is to our health. But, with 80,000 man-made chemicals, 700 contaminants in the average adult and over 200 industrial chemicals found in the umbilical cord blood of newborn babies – detoxification, through normal channels are being challenged like never before. On this program, we'll focus our attention on the pros and cons of chelation therapy. Having created many programs on detoxification, I can tell you that the wrong way of detoxifying the body can cause serious health problems like, severe head pain, dizziness or other life-threatening consequences depending on your health status. So, please pay close attention to what you're about to hear on this show.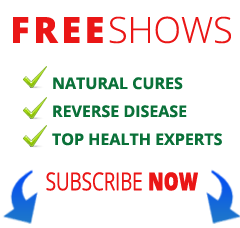 Next Show:
Sun. 03/17/19
Available 9:00 am – 9:00 pm (ET)
Listen to our preshow introduction:
If the 30 second promotion view is still playing on Sunday during show hours,
then please clear your browser cache.
---
Current Episode
---

Top sellers from the NaturalHealth365 Store