NH365 127: Transforming Your Health Naturally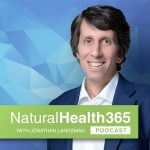 (NaturalHealth365) Today, we reveal how one doctor went from being physically active – yet, feeling sick and 20 pounds overweight in college to a much healthier version of himself. The message of this podcast is simple: you CAN completely transform your health naturally with the right lifestyle changes.
At first, our podcast guest wasn't too sure what was happening to him. But, over time, he realized that his health was falling apart and if he didn't make changes – he was going to be in big trouble. And, now that he knows what happened, he wants to help others to avoid serious health problems.
Easier than you think: Transforming your health naturally with the right testing and lifestyle choices
You're about to discover how one doctor changed his entire life – because of personal health issues. We'll talk about his journey, the value of functional medicine testing, how to overcome many of the most common health problems of our time like, chronic fatigue and excess weight gain plus important tips that go beyond diet and nutrition to truly change your health for the better.
This will be a practical show about what you can do – right now – to completely take charge of your own healthcare.
Links related to the show:
For more information about Dr. Vincent Esposito – visit: InsideOutHealthWellness.com
If you're not a NaturalHealth365 newsletter subscriber – visit: NaturalHealth365.com and sign up today.
Do NOT ignore the health dangers linked to toxic indoor air. These chemicals - the 'off-gassing' of paints, mattresses, carpets and other home/office building materials - increase your risk of headaches, dementia, heart disease and cancer.
Get the BEST indoor air purification system - at the LOWEST price, exclusively for NaturalHealth365 readers. I, personally use this system in my home AND office. Click HERE to order now - before the sale ends.
Podcast highlights include:
The real reason why young people gain weight and get sick
How to properly use medical tests to pinpoint a health crisis
The biggest obstacles to regaining our health
Simple ways to dramatically improve your health
Beyond nutrition: The essential ingredient to staying healthy
Plus, much more!
About Dr. Vincent Esposito
Dr. Vincent Esposito is the founder of Inside Out Health & Wellness, which is a nutrition counseling and coaching service with expertise in cancer patients and those at risk. He is also the co-host of the podcast, "The Art of Eating: A Holistic Guide to Healthy Living."
He graduated Summa Cum Laude from the University of Bridgeport College of Chiropractic. Before attending the University of Bridgeport, he played baseball at Union College and graduated with a degree in Biology, Science and Medicine in Technology. He is a board-certified chiropractor in the state of New York and has an interest in nutrition.
Dr. Esposito is a member of the American Chiropractic Association Council on Nutrition, the American Chiropractic Association Council on Diagnosis & Internal Disorders, and the American Chiropractic Association Chiropractic Sports Council.
His goal is to investigate and identify underlying factors causing chronic illnesses. These can include weight loss issues, hormonal imbalances, thyroid dysfunction, autoimmune disorders, digestive disorders, heart disease, diabetes, and fibromyalgia. Ultimately, his primary goal is to incorporate healthy, balance lifestyle practices into his patient's everyday lives.