NH365 124: Natural Medicine – How one medical doctor saved her own life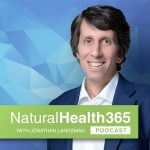 (NaturalHealth365) You're about to hear how one medical doctor literally saved her own life from serious thyroid issues and seizures – with the help of natural medicine. What makes this story even more extraordinary (and inspiring) is the fact that these natural remedies actually outperformed everything offered within conventional medicine.
This show will be a straight-forward – somewhat shocking – truthful look at our current healthcare system and, more importantly, we'll clear up many of the so-called mysteries of disease. The bottom line is, I hope the information you're about to hear helps you or someone you love to end suffering – as quickly as possible.
Discover what natural medicine can do for you
On today's show, we feature an extremely courageous woman, Cynthia Foster, MD.
While in medical school, as she tried to recover from a serious health condition – which included seizures – her colleagues made fun of her.  I'm not kidding, you will hardly believe what she endured while trying to fix her health problems.
In her quest to get healthy, Dr. Foster discovered the 'mysteries of disease' and watched miracles happen before her very eyes.  Even though her choice to use "alternative medicine" increased the risk of financial ruin and professional hatred, Dr. Foster overcame all obstacles and will reveal what she learned on this episode of the NaturalHealth365 Podcast.
Enjoy it!
Do NOT ignore the health dangers linked to toxic indoor air. These chemicals - the 'off-gassing' of paints, mattresses, carpets and other home/office building materials - increase your risk of headaches, dementia, heart disease and cancer.
Get the BEST indoor air purification system - at the LOWEST price, exclusively for NaturalHealth365 readers. I, personally use this system in my home AND office. Click HERE to order now - before the sale ends.
Links related to the show:
For more information about Cynthia Foster, MD – visit: DrFostersEssentials.com
If you're not a NaturalHealth365 newsletter subscriber – visit: NaturalHealth365.com and sign up today.
Podcast highlights include:
The health crisis that drove Dr. Foster to seek out a natural healer
How a natural healer outperformed conventional medicine
The unhealthy way to think about Western medicine and its so-called 'remedies'
The best ways to promote the "self-healing response" of the body
Dr. Foster reveals her best strategies for regaining optimal health
Plus, much more
About Cynthia Foster, MD
Cynthia Foster, MD is a very rare conventionally trained medical doctor who has been using highly concentrated herbs, energy healing, medical intuition and natural healing techniques with her patients for over 20 years.
She developed an interest in natural healing while suffering from epilepsy during the very years of her conventional medical training. While she was learning conventional Western Medicine, she was also suffering from up to 2 seizures per day for almost 4 years until she found the natural cure. Using only natural methods as her treatment, the seizures went into complete remission, and she has been seizure-free for over 20 years.
Her first book, "Stop the Medicine" tells the inspirational and miraculous story of her recovery as well as giving a shocking behind-the-scenes look at the Modern Medical Establishment.
Over the last 20 years of seeing patients, she has constantly been searching for even more solutions for her patients, helping them achieve the results that she herself had gotten. She has traveled the world learning and incorporating natural methods into her natural healing protocols including herbal detox, natural supplements, aromatherapy, hydrotherapy, energy healing, qi gong, mind-body medicine, therapeutic yoga, meditation, juice fasting and therapeutic foods.
A highly sought-after speaker and university instructor, she has lectured worldwide on a wide range of topics from the use of herbs to therapeutic yoga to conventional medicine classes for acupuncture students. She has been interviewed numerous times on radio programs and mentioned in the press as well as featured in magazines, newspapers, and on television.