NH365 089: Adrenal fatigue – Regaining your energy naturally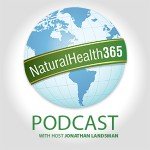 (NaturalHealth365) Living in the modern world of wireless technology, long days (and nights) of work exposed to artificial light, emotional stress and mental pressures create the perfect environment for adrenal fatigue.
Often called chronic fatigue, this serious health problem will NOT be solved by sleeping more or taking stimulants like coffee or sugary drinks.
Adrenal fatigue is curable – Discover a natural solution for your energy issues
Links related to this podcast:
For more information about Susan Luschas – visit: DebugYourHealth.com
Don't let your dentist ruin your health – Click here to get INSTANT access to the Holistic Oral Health Summit, created by Jonathan Landsman
Subscribe to the NaturalHealth365 newsletter to receive our FREE shows, lots of great health gifts + the latest news and information on natural health solutions.
Today, on the NaturalHealth365 Podcast, we'll take a closer look at the underlying causes of adrenal fatigue, how one woman conquered her family's health problems – naturally and, most importantly, some of the best ways to regain your energy levels without the need for toxic interventions or risky medical procedures.
Podcast highlights include:
Why Susan KNEW she had to 'debug' her family's health.
What Susan realized about conventional AND integrative healthcare providers – as it relates to her own healing journey.
How Susan discovered the 'key' to her success in achieving optimal health.
The signs of adrenal fatigue.
Exactly what Susan did to regain her energy and improve the health of her entire family.
Plus, much more about overcoming adrenal fatigue.
About Susan Luschas, PhD
Susan Luschas, PhD, is an MIT-trained scientist and engineer. She was forced to apply her critical thinking skills to debug her own family's health problems after spending hundreds of thousands of dollars and years of her life on doctors, experiments, and research.
Bottom line: She didn't stop until her family achieved radiant health. In fact, doctors started sending their 'un-healable patients' to her. In January 2016, she published everything she knows for free, about autism, dental infections, Lyme disease, parasites, methylation, chelation therapy and many other topics, on her website – Debug Your Health.