Doing this one activity can IMPROVE your body and mind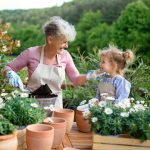 (NaturalHealth365) Whether you have a green thumb or are fearful of fauna, the health benefits of gardening are as numerous as the tulips popping through the ground in early May.  "When we sow a seed, we plant a narrative of future possibility," says Sue Stuart Smith, a British psychiatrist, and psychotherapist, in her book "The Well-Gardened Mind."
And that future possibility extends far beyond whether the Asters bloom or the kale flourishes.  Gardening provides the possibility of better health, improved social and mental development, less stress and a clearer mind, and greater interaction with nature and the outside world.
Gardening linked to MANY health benefits
Gardening is a fantastic low-impact exercise, which means it's perfect for all age groups but especially good for the elderly.  Gardening can also help boost memory in older people.  The U.S. Centers for Disease Control and Prevention (CDC) reports that community gardens help people combat loneliness and social isolation, which is something that older adults are at an increased risk of.  A 2006 study found that gardening can potentially lower the risk of dementia by 36%.
Gardening has also been linked to the following health benefits:
Improves self-esteem and confidence
Prompts weight loss
Lowers blood pressure
Cuts the risk of heart disease
Boosts immune system (yes, all that fresh air and Vitamin D)
Encourages a more healthy diet
Gaining sustenance and solace from nature's regeneration is a tried and true idea linked to wonderful results

In recent years, the benefits of gardening to mental health have been widely acknowledged, with primary care doctors increasingly giving patients "social prescription" to volunteer at community gardens.  The idea is that green therapy is as beneficial as talk therapy.  Many hospitals decided to redesign their space to incorporate gardens, as mounting evidence suggests that patients recovering from injuries or addicts struggling with addiction can heal more quickly with access to green space.
Anxious minds finding solace in plants and gardens is nothing new.  A Dutch study on cortisol, a natural steroid that helps the body respond to stress, found that gardening after a stressful event offered greater stress relief than reading.
Do NOT ignore the health dangers linked to toxic indoor air. These chemicals - the 'off-gassing' of paints, mattresses, carpets and other home/office building materials - increase your risk of nasal congestion, fatigue, poor sleep, skin issues plus many other health issues.
Get the BEST indoor air purification system - at the LOWEST price, exclusively for NaturalHealth365 readers. I, personally use this system in my home AND office. Click HERE to order now - before the sale ends.
During the First World War, infantrymen planted gardens in their trenches, growing not just vegetables to eat when rations were low but also flowers to boost morale and lift the spirits.  It's no surprise, then, that gardening has proved helpful for people suffering from PTSD.
Here is how to start a garden and benefit from getting your hands dirty 
There's a saying amongst horticulture enthusiasts: starting a garden is a lot like real estate … it's all about location.  And location is the first thing you need to think about if you're a novice looking to reap the health benefits of this therapeutic hobby.
Other basic steps to start a garden include:
Deciding what to grow
Planning garden beds
Testing and preparing the soil
Understanding frost dates
Choosing the right seeds and transplants
In "The Well-Gardened Mind," Sue Stuart Smith says that "gardens are an in-between place that allows the inner and the outer worlds to coexist simultaneously — a meeting place for our innermost, dream-infused selves and the real physical world."
It's that meditative space that can have a positive impact on your life.
Sources for this article include:
Organicconsumers.org
NewYorker.com