Hype-Biscus: Trendy flavor revered for its INCREDIBLE health benefits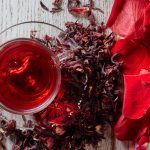 (NaturalHealth365) There are over 200 species of hibiscus around the world.  Hibiscus flowers come in a variety of sizes, shapes, and colors.  When they are dried and steeped, the unique, sweet-tart flavor is consumed differently across cultures – like hot tea, cold tea, or infused with aromatic spices or alcohol.  While hibiscus has been popular for centuries in various tropical regions around the world, it's become a true favorite among health food lovers in the U.S.
According to FONA International, hibiscus use has shown growth worldwide with a 78% increase in new products since 2014.  The hype surrounding hibiscus is fueled, in part, by consumers' desire for reduced sugar and low-sugar beverages.  The trendy flavor is also revered for its numerous health benefits: it's high in vitamin C and antioxidants, features antibacterial, weight loss, and diuretic properties, and has the ability to lower blood pressure and naturally absorb fat.  Hibiscus flowers have long been used in traditional African medicine for their health-giving properties.
From tradition to trend:  How one flower fits all
So, where did the hibiscus trend originate?  For many Americans, it started in 2012, when beverage giant Starbucks introduced its first hibiscus drink – Very Berry Hibiscus.  After the product launch, it was only a short time before hibiscus started showing up as a hip flavor pairing in restaurants and small-batch artisan brewers began making pink-hued hibiscus beers.  With its brightly-colored petals and delicate blooms, hibiscus is as Instagrammable as it is healthy, and Instagram helps to promote the food and beverage market.
However, long before Starbucks' co-opted hibiscus as a drink flavor, Latin America used flor de Jamaica in a diverse category of foodstuffs – from Argentinean coffee to Brazilian confectionery to Mexican street food, not to mention sweet meat sauces and ice cream.  In other words, what's trendy in the U.S. is traditional in Latin America, where hibiscus has been an essential flavor in traditional fresh waters (agua frescas) for decades.
Even beverage behemoth Coca-Cola has hibiscus blends in its global portfolio
Once a food or drink proves to be flavorful, healthy, and Instagrammable, it doesn't take long before Big corporations want a piece of the market.  In 2019, Firmenich tipped hibiscus as the "flavor of the year" because of the growing appeal of florals and botanicals in food and drink.  It's easy to forget in all the corporate jockeying and social media marketing that many cultures consider hibiscus a medicinal plant.
When the hibiscus fad fades, and food media starts obsessing over something new (one day it's kimchi, the next it's acai berries), hibiscus tea will still be the national drink of Senegal.  Karkadeh, another type of dark red hibiscus brew, will still be used to toast wedding celebrations in Egypt and Sudan, where hibiscus is famous for its potent mix of antioxidants, vitamin C, and minerals, and not as a just "brand" 'drink with a hip following.
If sweet, tart, tangy tea drinks aren't your thing, consider using hibiscus in the following way:
as a dry rub
in a sweet sauce
as a garnish for fish
Chutney
Vinaigrette
Sources or this article include: