NH365 121: Fixing the gut – Why digestive health matters and solutions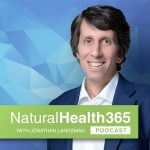 (NaturalHealth365) By now, I'm sure you have heard how the digestive system acts like a 'second brain.' In realty, the health of our gut is directly connected to so many areas of our life – physically, mentally and emotionally.
Today, on the NaturalHealth365 Podcast, we'll dive deep into this topic and find out why your future health greatly depends on a strong digestive system.
Gut health 101: What you need to know to protect your future health
Do you struggle with IBS, or irritable bowel syndrome? Maybe you just want to get rid of common digestive health issues like, constipation, diarrhea, or simply feel 'uneasy' in your stomach.
Don't just 'accept' your symptoms as a 'normal' part of getting older or due to stress. You should know that you can eliminate these problems – safely and naturally.
Be sure to grab a pen and paper – and take lots of notes during this program. And, if it helps you – be sure to share this information with family and friends.
Links related to the show:
For more information about Dr. John Dempster – visit: TheDempsterClinic.com
Did you know? The liver is the most important detoxifying organ in the body. When the liver can't effectively neutralize and dispose of toxins, they accumulate in the body. Two essential nutrients for healthy liver function are milk thistle and glutathione. These two ingredients - plus much more – are now available in an advanced liver support formula. Click here to learn more.
If you're not a NaturalHealth365 newsletter subscriber – visit: NaturalHealth365.com and sign up today.
Podcast highlights include:
Why the gut is so important to your future health
The value of the microbiome
The ugly truth about having a 'leaky gut'
Best foods and supplements for digestive health
How functional medicine can help heal the gut
Plus, much more!
About Dr. John Dempster
Dr. John Dempster is a board-certified Naturopathic Doctor and the Founder and Medical Director of The Dempster Clinic – Center for Functional Medicine.
Dr. Dempster focuses on a Functional Medicine model when treating patients who suffer from various conditions such as mental illness, autoimmune disease, digestive disorders, and more.
In addition, Dr. Dempster has a strong passion for helping patients embrace an optimal aging philosophy, where he supports them in achieving a longer, healthier, and more fulfilling life. By referring to cutting edge laboratory diagnostics, his approach emphasizes the importance of optimizing biochemical, metabolic, and hormonal functions within the body.
As a strong believer in integrative and evidence-based medicine, Dr. Dempster has also completed an advanced fellowship in Functional, Regenerative, and Anti-Aging Medicine.
Dr. Dempster frequently conducts research on relevant health issues and speaks to corporations about various health and wellness topics. Dr. Dempster is a sought-after speaker and his work is frequently featured on national television and media sites worldwide.