Recipe for disaster: Big Food's ultra-processed "Lunchables" invade K-12 schools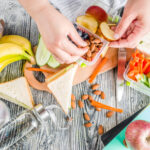 (NaturalHealth365)  If you use social media, you've likely seen viral pictures of Italian school lunches.  Secondary schools in Italy serve fresh, organic, colorful, and delicious food to growing students.  In contrast, school lunches in the United States are akin to the fare you'd find in an Italian prison (or worse).
A recent news story highlighted how two ready-to-eat prepackaged processed food items, referred to as "Lunchables," are being implemented in school lunch programs throughout the United States.  Made by Kraft Heinz, Lunchables are emblematic of corporate America: unhealthy and economically efficient yet ineffective.
Why are our children being fed pure garbage for lunch?
Kraft Heinz, a corporation largely owned and controlled by institutional shareholders, is driven by the profit motive.  Kraft Heinz is an official partner of the School Nutrition Association that dictates what our fragile youngsters consume for lunch.  The corporate behemoth has been working diligently to infiltrate school lunch programs throughout the country to get kids hooked on its addictive Lunchables.
The top four institutional shareholders behind Kraft Heinz are State Street, Vanguard, BlackRock, and Berkshire Hathaway.  Retail investors are familiar with these names, but the average hardworking American parent is not.
For example, BlackRock has been justifiably villainized for scooping up residential housing and renting those domiciles for profit, ultimately precluding an expansion of American home ownership.  But this financial institution has much more influence over many other industries and brand name products.
Shifting the focus to federal guidelines
The question begs:  Why is the federal government giving Kraft Heinz the green light to add unhealthy packaged food to school lunches?  Political activists and concerned parents alike agree that federal nutrition guidelines are deeply flawed.
If the federal government were effective, it would bar processed ingredients in school lunches.  Unfortunately, government officials have decided Lunchables' extra cheese pizza containing soybean oil is a suitable lunch for growing tweens and teens.  Soybean oil is problematic because it contains omega-6 linoleic acid that plays a vital role in the development of chronic diseases, the body's inability to generate sufficient energy, and even the functionality of mitochondria.
To add insult to injury, the U.S. federal government has also allowed Kraft Heinz to add vital wheat gluten to the school lunch menu.  Also known as pure gluten, vital wheat gluten has the potential to cause a leaky gut.
Additional suspicious new school lunch ingredients include refined wood pulp, also known as cellulose powder, food coloring, preservatives, and artificial flavors.  Wood pulp is especially problematic as it adds density and volume to school lunches, empowering the likes of Kraft Heinz to reduce the number of real ingredients used in meals.
Kraft Heinz fights back in the public relations battle
We would be remiss to gloss over the fact that Kraft Heinz representatives have gone to great lengths to show their Lunchables were reformulated to adhere to the nutritional requirements of the National School Lunch Program.  These nutritional standards mandated a reduction in sodium and an elevated grain content compared to Lunchables available in stores.  However, the bottom line is the National School Lunch Program's nutritional requirements are insufficient, meaning they are not guaranteed to ensure your son or daughter receives the proper nutritional sustenance at school.
Though schools must offer kids five components in school lunches (milk, grain, protein, fruits, and vegetables) and students are to take at least three, including a fruit/veggie option, surprisingly unhealthy corporate-created processed foods meet the category standards.
The truth is Lunchables and other school lunch fare made by greedy corporations amount to nothing more than highly processed junk food laden with nasty artificial ingredients.  For example, the small amount of tomato sauce in pizza meets the standards necessary to be considered a lunch vegetable.
Tips and solutions to sidestep corporate America's control of school lunches
Though Lunchables will still likely be added to kindergarten through grade 12 lunch programs this fall, this step backward is merely one battle amidst an overarching war on our children.
Recognize that a full reliance on the local school to feed your growing youngster is a grave mistake.  Instead of letting your little bundle of joy scarf down a salt and fat-laden Lunchable or two, embrace the DIY (do-it-yourself) ethos.  Make your child's lunch every day at home using wholesome, organic ingredients, either the night before or the morning of school.
In addition, consider becoming an advocate for change.  Raise awareness about the concerning state of school lunches in your community and throughout the United States.  Connect with fellow parents, organize meetings, and initiate petitions to encourage local schools to enhance the nutritional quality of their offerings.
Your efforts can make a meaningful impact on the health and well-being of students and promote positive change in school lunch programs.
Sources for this article include: