Chemical manufacturer seeks EPA approval to apply highly toxic pesticide on Florida oranges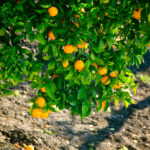 (NaturalHealth365)  It's hard not to automatically associate Florida with oranges.  In fact, the Sunshine State contributed to nearly 40 percent of the United States' citrus fruit production during the 2020-2021 season, according to the Florida Department of Agriculture and Consumer Services.  In the same growing season, the state also yielded a whopping 52.8 million "boxes," representing $579,442,000 of "on-the-tree" sale value.
But while Florida oranges might taste good and offer a healthy dose of vitamin C, they could soon be purposefully sprayed with a toxic chemical, should a certain chemical manufacturer get its toxic pesticide approved for use by the U.S. Environmental Protection Agency (EPA).
Previously BANNED toxic pesticide could be back on Florida farms and sprayed on orange trees, pending approval from EPA
In late July of this year, the Federal Register announced that the "EPA has received applications to register new uses for pesticide products containing currently registered active ingredients."  The applications pertain to the previously banned toxic pesticide known as aldicarb, made by the manufacturing company AgLogic Chemical.  (How's this for a mouthful: the chemical name of aldicarb is alternatively described as 2-Methyl-2-(methylthio)propanal O-((methylamino)carbonyl)oxime or 2-Methyl-2-(methylthio)propionaldehyde O-(methylcarbamoyl)oxime.)
As reported by Children's Health Defense, the EPA previously banned this pesticide over glaring health concerns.  So concerning is this chemical, in fact – which has also been banned in over 125 other countries – that the World Health Organization (WHO) classified it as "extremely hazardous" in their 2009 guidelines for pesticide classification.
On a webpage cited and prepared by the WHO and the International Labour Organization (ILO), aldicarb is described as "fatal if swallowed."  The compound "causes damage to the central nervous system through prolonged or repeated exposure," with possible adverse effects including convulsions and respiratory depression.  The compound is also "very toxic to aquatic life with long-lasting effects" and "may be hazardous to the environment."  The WHO and ILO advise that "special attention should be given to birds, bees, mammals, soil organisms and water quality.  This substance does enter the environment under normal use" (emphasis ours).
Finally, the warning in all caps is listed clear as day: "AVOID ALL CONTACT!  AVOID EXPOSURE OF ADOLESCENTS AND CHILDREN!  IN ALL CASES CONSULT A DOCTOR!"
Yet, for some reason, some chemical manufacturer wants the freedom to spray this toxin all over Florida's citrus fruits again!
Profits over public safety?
Ostensibly, the goal of reinstating this toxic insecticide is to benefit the citrus industry (note – nothing about protecting the health of consumers) by preventing citrus greening and citrus canker disease, agricultural complications that would allegedly lead to $.175 billion in lost production value over a 10-year period.
Interestingly, the EPA contended in 2010 that aldicarb "posed unacceptable dietary risks to infants and young children" and got BigAg bigwig Bayer to stop using the compound on citrus fruits at that time.  Yet the compound was still okay for use on other crops, including cotton, dry beans, peanuts, soybeans, sugar beets, and sweet potatoes.
And when AgLogic "reformulated" the dangerous toxin, however, the EPA re-approved the compound for use on citrus crops in 2021, namely grapefruit and oranges.  In justifying their approval, the EPA completely flipped their stance on the danger of this substance, claiming that it "present[s] no risks of concern, including to young children."
Scratching your head yet?
This 2021 approval was met with many critics, including the Florida Department of Agriculture and Consumer Service and a vocal cohort of farming and conservation groups who filed a lawsuit.  This 2021 EPA approval was even reversed by a federal court!
Yet here we go again: the EPA is potentially poised to approve yet another version of this dangerous compound … a compound which has been shown to pose "an unacceptable risk to human, animal and environmental health," according to the Florida Department of Agriculture.
It is clear that this compound can lead to serious and damaging health effects in humans, especially among children – let alone damaging effects among animals and the environment at large.  And because repeated exposure has been shown to cause harm, many experts say that even low doses can be problematic.
Until August 23, the public can submit their comments about the pending approval directly to the EPA.  If you'd like to make your voice heard, click here.
Sources for this article include:
Childrenshealthdefense.org
FDACS.gov
WHO.int
Inchem.org
Federalregister.gov 
Regulations.gov
EPA.gov