COVID boosters cause more harm than good, Professor of Oncology warns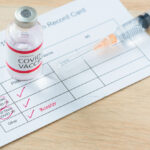 (NaturalHealth365)  Though it might be hard to believe, some unsuspecting Americans are already on their fourth booster shot.  It is even more concerning that some misguided individuals went to the extent of doubling up on the original Pfizer and Moderna shots, then adding a regimen of boosters, totaling half a dozen shots.  The COVID-19 tracker reports more than 13 billion total doses of the COVID shot have been administered worldwide.
An esteemed Professor of Oncology has emerged to warn the public of the shot's dangers.  The professor, Angus Dagleish, teaches at St. Georges Hospital Medical School in London.  Dagleish has bravely stepped forward, speaking truth to Big Pharma and Big Government power.  Only time will tell if his courage costs him his tenure.
Professor of Oncology issues dire warning about COVID boosters
According to Professor Dagleish, even one COVID booster is a net negative for human health, causing more harm than potential good.  Dagleish's opinion matters as his work on HIV/AIDS is highly regarded.  However, the academician's statements on the COVID boosters contradict the British government's.  The island nation's federal government announced it advises that the boosters be administered throughout the summer ahead.
"The Government is dealing with an avalanche of vaccine injuries on one hand, whilst persuading everybody else over 50 to continue with this madness," wrote Professor Dagleish in his article published in Express.
A look behind the curtain of Big Pharma and Big Government
According to Professor Dagleish, the argument against using mRNA shots has become even more compelling and justified.  A recent trial conducted by Moderna has revealed that mRNA jabs developed for the flu failed to yield improved health outcomes compared to other available injections.  However, what is particularly striking is that these drugs resulted in significantly worse reactions among patients.
In light of these findings, Professor Dagleish asserts that this evidence alone should serve as a decisive blow to the continued utilization of this technology for infectious diseases.  Furthermore, the implications of such results challenge the validity and safety of mRNA-based approaches, raising important questions about the future of pharmaceutical interventions in combating illnesses.
More people wake up every day, saying NO to Big Pharma mRNA injections
COVID jab burnout is rapidly spreading worldwide and for valid reasons.  By examining the facts and figures, it becomes evident that the general public resonates with Dagleish's sentiment that the risks of adverse events associated with COVID boosters outweigh their benefits.
Even the mainstream media acknowledges the abysmal uptake of boosters among Americans, shedding light on the negative trend.  In fact, only 41% of individuals aged 65 and older have chosen to receive a COVID booster, despite the constant state of fear pushed by these media outlets.
A metaphorical counterpunch is gaining momentum, gradually pushing back against the relentless efforts of Big Pharma to erode personal autonomy under the deceptive cloak of free enterprise.  Stay tuned as we uncover profiles of courage among medical professionals and academia, revealing their brave stance against these practices in the coming months.
Sources for this article include: