FDA halts J&J COVID injection due to reports of blood clots, MULTIPLE administration sites shut down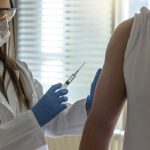 (NaturalHealth365) Big Pharma company Johnson & Johnson (Janssen) has been having a rough month.  After an astounding number of people reported adverse reactions at COVID injection clinics throughout the country, multiple clinics had to temporarily shut down, undoubtedly leaving many would-be J&J jab recipients on edge.
But for J&J, the hits keep coming.  In a stunning move this week, the U.S. Food and Drug Administration (FDA) and U.S. Centers for Disease Control and Prevention (CDC) urged states to temporarily withhold giving the Janssen COVID injection due to concerning reports of blood clots.
"We are recommending a pause:" FDA and CDC urges states to STOP administering J&J jab due to risk of blood clots
Despite efforts from mainstream media to normalize adverse COVID injection reactions like dizziness, nausea, and fainting — as if we shouldn't be concerned over these things happening to ourselves or our loved ones — multiple shot sites in North Carolina, Colorado, Iowa, and Georgia had to shut down earlier this week due to dozens of people experiencing these very effects.  Several individuals even had to be sent to the hospital.
On April 13, the FDA and CDC released a joint statement in which they recommended a "pause" in the use of this experimental drug due to 6 reported cases of "rare and severe" blood clots known as cerebral venous sinus thrombosis (CVST).  The women suffering from CVST — who were all between the ages of 18 and 48 — also presented with low levels of blood platelets (thrombocytopenia).  Each case occurred within two weeks following the J&J jab.
Proponents of the experimental injections had the gall to voice concerns over the move, stating that such a pause may lead to unnecessary fear and uncertainty over the safety of the drugs.  Many also point out that over 6.8 million doses of the J&J jab have been administered so far, which translates to an extremely low rate of blood clots — possibly lower than the average rate for the general population.
However, it should be noted that this COVID jab rollout continues to be a "rapidly evolving situation."  For instance, it is still yet to be known if more J&J recipients will soon suffer from these potentially deadly blood clots.  Additionally, the number of adverse events listed on the Vaccine Adverse Event Reporting System (VAERS) is famously underreported.  It's entirely possible that there have already been other victims of this jab who, along with their medical team, have not put two and two together yet.
Ongoing injection experiment has many asking: Is the shot really "safe and effective?"
According to the CDC, the J&J COVID injection was just over 66% effective (not much more than the seasonal flu shot) in clinical trials at preventing COVID-19 illness.  On their website, the CDC alludes to a "growing body of evidence" suggesting that these shots may prevent transmission, but there still is insufficient evidence to fully support this claim.  The CDC also notes that the risks of SARS-CoV-2 infection in people who have received all doses of the shot "cannot be completely eliminated as long as there is continued community transmission of the virus."
This warning is all too true, as indicated by a growing number of so-called "breakthrough cases" of individuals who have received their full doses of the J&J, Moderna, or Pfizer shots yet STILL ended up testing positive for COVID-19.  In New Jersey, one fully-jabbed man landed in the hospital with COVID.
And in tandem with all this uncertainty, Johnson & Johnson continues to struggle with major gaffs.  The company had to toss about 15 million doses of their experimental drug after they became contaminated.  And how's this for a PR headache…
As noted by Children's Health Defense, the J&J CEO recently got a 17% pay raise despite sitting at the helm of a company that continues to pay out billions of dollars for its unscrupulous role in the opioid epidemic.
Sources for this article include: