Governments cancel freedom of speech for the medical profession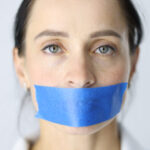 (NaturalHealth365)  Freedom of speech /n/: the right to express information, ideas, and opinions free of government restrictions based on content.  In its definition of the term, Britannica adds that any restrictions on speech are legitimate "only if the speech in question poses a 'clear and present danger' – i.e., a risk or threat to safety or to other public interests that is serious and imminent."
Under the U.S. Constitution, Americans can exercise this right (although questionable infringements are not unheard of).  But people in other countries haven't always been so fortunate.  Indeed, a 2021 decree from an Australian government agency posed a sobering warning to any Australian health care providers who dare to question the mainstream COVID narrative.
Doctors in Australia at risk of losing the right to practice medicine for discussing their opinions, concerns about COVID shots
Over the past couple of years, the world watched with incredulity as Australians faced intense lockdowns handed down by government officials attempting to exert an unprecedented level of control over their citizens.  Many now fear that this egregious power grab has also encroached into medicine.
Just consider a joint directive released last March by the Medical Board of Australia and the Australian Health Practitioner Regulatory Agency (AHPRA).  In a "position statement" directed at registered health practitioners and students, the Board and AHPRA warned doctors not to question government public health directives and other information related to COVID-19 shots – "effectively gagging them," says the Australian Medical Professionals Society (AMPS) in a response article published by Spectator Australia.
Indeed, says AMPS, many health care professionals in Australia have already been disciplined or suspended for questioning or challenging public health messaging – "even if they believed that they had scientific evidence to support their professional view."
In discussing this joint directive, the AMPS – described as a newly formed alternative to the Australian Medical Association that is "standing up for medical transparency, to protect our patients, and ensure open scientific debate" – adds that "never before have government bodies demanded compliance with domestic law that we believe breaches our codes and oaths to 'first, do no harm' and 'I will not use my medical knowledge to violate human rights and civil liberties, even under threat'."
So, what exactly does the directive say?
Writes the APHRA: "Any promotion of anti-vaccination statements or health advice which contradicts the best available scientific evidence or seeks to actively undermine the national immunisation campaign (including via social media) is not supported by National Boards and may be in breach of the codes of conduct and subject to investigation and possible regulatory action."
The directive features additional warnings for health care practitioners, such as making sure that doctors comply with the government's guidelines for social media use and do not "discourage their patient or client from seeking vaccination" even if the doctors themselves choose not to get injected due to conscientious objection.
APHRA further warns that anyone who shares "false, misleading or deceptive" information about COVID-19, "including anti-vaccination material," may face persecution.
Doctors ask: what exactly "counts" as "anti-vax" material and "misinformation," anyway?
These governmental attempts to stifle medical professionals are not unheard of, even here in the United States.
In February 2022, for example, California Democratic Assemblyman Evan Low introduced Assembly Bill 2098 that would punish doctors for "unprofessional conduct" should they disseminate what the California Medical board deems "misinformation" about COVID-19 – including "misinformation" about vaxxes and early treatment with off-label drugs.  (As of this writing, CA AB 2098 has passed the Senate and is now in the full Assembly.)
You'll notice, of course, that terms like "anti-vax material" and "misinformation" are actually quite vague – and can change over time as more evidence is collected about safety and efficacy concerns over these drugs.
Think about it: an increased risk of myocarditis in young vaxxed males was once considered misinformation.  Shot-induced menstrual changes were once considered misinformation.  Pointing out that the COVID shots do not effectively stop the transmission of SARS-CoV-2 was once considered misleading.  All of these points have since proven true … but not after first being painted as a "clear and present danger" to public health and safety.
Do these government officials truly expect that doctors will feel safe to practice medicine to their best ability knowing that if they express any legitimate concerns about COVID-19 shots – even if those concerns are based on new scientific evidence – they may face disciplinary action?
In their Spectator Australia article, the Australian Medical Professionals Society sums it up well: "The pressure on medical professionals to hide their true opinions should be rescinded and doctors allowed to openly debate all Covid measures and be able to have all tools at their disposal to treat patients."
Sources for this article include:
UScourts.gov
CA.gov
Legislature.ca.gov 
AHPRA.gov
AHPRA.gov
Britannica.com
Spectator.com
Californiaglobe.com
Sydneycriminallawyers.com