NH365 004: 10 ways to rejuvenate the body and mind – Part 2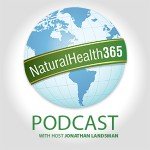 (NaturalHealth365) Do you know how to deal with stress? Left unmanaged, chronic stress can cause muscle tension, headaches, depression plus a host of degenerative diseases.
In this program, you'll learn how to quickly rejuvenate the body, mind and spirit.
There are two parts to this podcast, click here to listen to "10 ways to rejuvenate the body and mind – Part 1" – which covered topics like: healthy breakfast tips; the best superfoods to eat; the importance of visualization plus much more!
In this episode, Jonathan Landsman and Susan Smith Jones, Ph.D. will continue to share their best advice on how to reduce stress, increase energy levels, avoid disease and improve performance – physically and mentally.
How to relieve chronic stress – program highlights:
Tip #6 – "Eat lots of fruits and veggies".  With so many diets and health 'experts' to choose from – it's often overwhelming to figure out what's best for us. Generally speaking, a simple food philosophy to live by is – 'eat food, not too much and mostly plants'.
Tiip #7 – "Nuture wellness with sleep".  Do you have a sleep disorder? If so, this section of the show will prove to be invaluable.  Studies show that getting enough (quality) sleep will improve your memory, promote longevity, reduce inflammation, increase creativity and physical performance. A lack of sleep can destroy your ability to handle stress – don't underestimate the importance of this tip.
Tip #8 – "Adjust your attitude".  Don't miss this portion of the program – it's very informative and entertaining! (Probably one of the most important sections of the show)
Tip #9 – "Take time to meditate".  This portion of the show will surprise you. Most people misunderstand the meaning of mediation and, after listening to this part of the show, you'll become inspired to try it. Anyone can do it and it's really easy.
Tip #10 – "Enjoy daily laughter".  Research shows that laughter releases endorphins into the body that act as natural stress buster. Again, don't underestimate the power of these suggestions. Listen carefully to these tips and start using them in your life today.
A special message of hope from Dr. Jones
In this program, you'll discover how to invigorate the body, mind and spirit, and when applied with discipline and enthusiasm, what zest they will give to your day and to your life!
Maybe you can incorporate one or two at a time and then build up until you have in place the full repertoire. Your energy will abound, your life will be enriched and you will be a blessing to yourself and to your loved ones and, indeed, to all with whom you come into contact during the course of the day.
Feel free to share this information with your family and friends to dramatically improve the quality of their life. Even better, why not team up with someone and put these tips to work right away? Remember, life is a celebration and you deserve the very best. Let's shine brightly together!
Links related to the show:
Visit: SusanSmithJones.com for lots of great information and free gifts from Dr. Susan Smith Jones.
Buscaglia.com – to learn all about the great teaching of Dr. Leo Buscaglia – one of my favorite resources for living life 'in love'.
Subscribe to the NaturalHealth365 newsletter to receive lots of great health gifts + the latest news and information on natural health solutions.