NH365 003: 10 ways to rejuvenate the body and mind – Part 1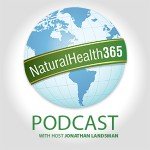 (NaturalHealth365) Are you feeling overwhelmed or stressed out? Millions of people are suffering with chronic fatigue and degenerative disease due to a lack of knowledge. Today, on the NaturalHealth365 Podcast, you'll discover how to naturally eliminate disease symptoms and reverse the aging process.
Editor's note: "10 Ways to Rejuvenate the Body and Mind" is offered in TWO episodes – so be sure to listen (next week) to the second part of this program with Dr. Susan Smith Jones and Jonathan Landsman.  If you're not on our email list – subscribe today and you'll be notified when a new episode is available.
These tips are rarely discussed in the mainstream media and have the power to completely transform your life. We believe you can live the life of your dreams – but it will require a willingness to implement a few simple steps. Anyone can do this – so, let's get started!
Chronic fatigue and stress solutions: 5 tips here:
Tip #1 – "Refresh" – build breaks into your day, from sunrise to bedtime, to reset and refresh your body and mind.
Tiip #2 – "Exercise" – make physical activity a top priority. In this part of the show, you'll be pleasantly surprised with the advice you receive from Jonathan and Dr. Jones.
Tip #3 – "Join the breakfast club". This time it looks like mom was right…if you're suffering with concentration issues or mood disorders – this part of the show will prove to be extremely valuable.
Tip #4 – Utilize nature's superfoods – Dr. Jones reveals her (2) favorite nutritional supplements to look and feel younger – everyday. This information will probably save you hundreds of dollars in supplement costs.
Tip #5 – Visualize – Great information for stressed out adults or kids looking to gain that 'winning advantage'.
A special message of hope from Dr. Jones and Jonathan Landsman
In this program, you'll discover how to invigorate the body, mind and spirit, and when applied with discipline and enthusiasm, you will literaly transform your life!
Keep in mind, it's NEVER too late to incorporate healthy lifestyle habits into your day.  Our best advice is to try one or two of these tips (for starters) and then add more at your own pace.  As you do, your energy will soar and you'll experience a much brighter life.  Naturally, as your spirit comes alive, you'll be a blessing to yourself and to your loved ones plus everyone you come in contact with during the day.
Feel free to share this information with your family and friends to dramatically improve the quality of their life. Even better, why not team up with someone and put these tips to work right away? Remember, life is a celebration and you deserve the very best. Let's shine brightly together!
Links related to the show:
Visit: SusanSmithJones.com for lots of great information and free gifts from Dr. Susan Smith Jones.
Subscribe to the NaturalHealth365 newsletter to receive lots of great health gifts + the latest news and information on natural health solutions.