Sorry, foodies: No indoor dining in NYC until there's a vaccine available, according to news outlets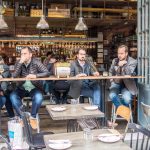 (NaturalHealth365) Many public health officials seem to stray further and further from their initial call to just "flatten the curve," haven't they? Consider New York City mayor Bill de Blasio.
Despite recent news that COVID-19 infection rates in the state were less than 1 percent every day for the final three weeks of August, the Mayor is considering banning indoor dining past the current October 31 end date.
And what will it take for him to allow people to get back to their jobs and put food on their customers' tables – not to mention their own family's tables? A COVID-19 vaccine, hints de Blasio.
No indoor dining until Big Apple residents gets vaccinated?
Honest question: Who would want to eat outdoors in New York City well into the cold months of November, December, and beyond?
Sadly, this is the reality that New Yorkers may have to face thanks to Mayor de Blasio's recent hint that the city may need to see a COVID-19 vaccine made available before people will be allowed to eat indoors again.
Mayor de Blasio is also reportedly planning to extend the current "Open Restaurant" program – which only permits patrons to eat outside and forces restaurants to remain closed to indoor dining – well past the end of October.
"We do…pray for and expect a vaccine in the spring that will allow us to get more back to normal," the mayor said at a recent daily press briefing. "But I will absolutely tell you, we're going to keep looking for that situation where we can push down the virus enough where we would have more ability to address indoor dining." A read-between-the-lines way of saying that vaccinations may be part of the requirement for reopening.
Critics rightly point out that it is arrogant to expect New Yorkers to eat outside in the cold New York weather. Which of course leaves restaurant owners and employees forced to bear the brunt of the short-sighted policy – dwindling customers and revenue, the dire ramifications of which have yet to be seen.
As COVID-19 infections in New York slow down, thousands of New York City workers remain unemployed and face long-standing consequences of the economic lockdown
According to the New York Post, less than half of New York City's 25,000 restaurants currently have outdoor service, and more than 150,000 restaurant workers are on unemployment, as of August 27, 2020. It's insanity to imagine that an entire industry may be virtually held hostage until a vaccine becomes available.
Of course, experts have long warned about the potential harm that financial hardships caused by coronavirus lockdowns will have on people, especially for those who are among our nation's most vulnerable. Incredibly, New York state restaurants laid off a quarter of a million people and lost over $2 billion in revenue in the first 22 days of March alone, according to the National Restaurant Association.
By preventing restaurants from being able to open and serve their customers – and expecting customers to sit outside in the freezing cold simply to enjoy a meal (in what many criticize are still close quarters) – how are New York City residents expected to bounce back from this incredible hardship?
At what point – and at what cost – will it be deemed "safe enough" for the city that never sleeps to get back to business?
It's no wonder New York City residents are moving out of the city for a better quality of life elsewhere.
Sources for this article include:
NYPost.com
Restaurant.org
NY.Eater.com
NYPost.com
NYTimes.com
Patch.com
NY.gov