NH365 030: Boost metabolism and lose weight naturally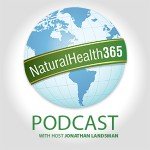 (NaturalHealth365) Are you looking to boost metabolism and lose weight naturally? Conventionally speaking, we see lots of artificially-sweetened ('diet') products, poor quality supplements and crazy exercise routines designed to entice the overweight population to spend money for better health. The problem is: Many of these products and services don't work safely or effectively.
Today, on the NaturalHealth365 Podcast, Jonathan Landsman and Dr. Susan Smith Jones talk about the best ways to eat, drink and exercise to lose weight and feel great. If you're looking for a scientifically-grounded, yet inspirational way to be your best – do NOT miss this program.
Links related to the show:
1. For more information about Dr. Susan Smith Jones – visit: SusanSmithJones.com
2. Subscribe to the NaturalHealth365 newsletter to receive lots of great health gifts + the latest news and information on natural health solutions.
6 tips to help you lose weight naturally
1. Start your day in a positive way. Studies show that mental and emotional stress can damage your hormonal balance. – increasing your risk for weight gain.  One of the best ways to reduce stress – on a daily basis – is to start your day with an enjoyable (uplifting) activity. Set aside time – first thing in the morning – for some light stretching; exercise; or meditation. Another great tip would be to set up your morning activity – the night before – by taking out your exercise clothes or packing a healthy lunch for the day, to make your morning less stressful.
2. Eat smaller meals, more often. Contrary to popular belief, skipping meals will only lower your resting metabolic rate and trigger your body to hold on to every calorie, in the long run. 'Grazing' throughout the day – on the best quality food possible – is an intelligent way to nourish the body and help to speed up the metabolism.
3. Avoid processed (low quality) carbohydrates. Poor quality breads, pretzels and chips are loaded with simple sugars, genetically modified organisms (GMOs) and unhealthy fats – which increase your risk for food cravings and weight gain. One of the easiest ways to break unhealthy food additions is to consume high-quality nutritional supplements – on a daily basis. Dr. Jones recommends Hawaiian Spirulina (3,000 mg per day) and Hawaiian Astaxanthin BioAstin (12 mg per day) to supply the body with lots of antioxidants, vitamins and mineral – which support a healthy metabolism and immune function.
4. Don't forget the importance of fiber. Fiber-rich foods help to detoxify the body and reduce the risk of chronic disease. Eating lots of vegetables and some fruit will keep you feeling 'full' and satisfied throughout the day. For example, a large salad with arugula, cucumbers, carrots, tomatoes, chickpeas, avocado and your favorite nuts or seeds can go a long way toward nourishing the body and keeping you away from unwanted junk food.
5. Chew your food. When you start to eat, we know it takes about 20 minutes before you will feel full. So, as obvious as it may sound, take your time and eat slowly to help your body breakdown and absorb the nutrition from the food you eat. Remember, better chewing will greatly improve digestion and actually improve your energy – throughout the day. You'll probably notice that you can eat less and not feel hungry – when you eat slower at meal time.
6. Drink water. Keep in mind, the body is about 70% water. We all need around 8 glasses of water (every day) or more – depending on our activity level and living environment – to maintain good health. Even though your body may not feel thirsty – you could be dehydrated, which contributes to food cravings, chronic fatigue, poor brain function and other serious health problems.
One final note: Be sure to drink clean water – avoid fluoride for obvious reasons and, if necessary, get a good quality water purification system.
In this podcast with Dr. Susan Smith Jones and Jonathan Landsman, you'll gain a much better understanding about metabolism; how to build up and maintain good muscle integrity plus great tips for living a healthier lifestyle. Enjoy the show!