MIT professor calls for halt to the mRNA COVID shot program due to serious adverse events and deaths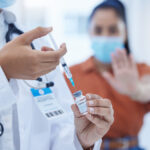 (NaturalHealth365)  When American high school students are asked to pick their ideal college or university, the Massachusetts Institute of Technology (MIT) often emerges as their top choice among all post-secondary institutions.  But, MIT has also been in the news for another, more important reason.
MIT Professor of Analytics, Risk Management, Health Systems, Food & Agriculture Systems, Manufacturing, and Supply Chain Management, Retsef Levi, speaks out against the COVID jab program.  Levi has publicly called for the mRNA jab program to end.  Let's examine why Levi is so passionate about ending the Big Pharma jab experiment.
Why Professor Levi is so concerned with the impact of the COVID jab
Professor Levi recently made the media rounds to voice his concerns about Big Pharma's coronavirus injections.  In particular, Levi highlights how the jabs spike mortality rates, increase heart health problems and cause other adverse health outcomes.
Levi's commentary is rooted in facts and statistics from recent analyses of young Israeli men who took sequential injections of the jab.
The evidence is mounting and indisputable that MRNA vaccines cause serious harm including death, especially among young people. We have to stop giving them immediately! pic.twitter.com/chFLvqlDqu

— Retsef Levi (@RetsefL) January 30, 2023
Levi also pointed to the increase in sudden deaths as a sufficient reason for ending the jab program.  It is no secret that excess mortality characterized by a spike in sudden deaths has sparked concern among alternative media sources, including some government officials.  As Levi noted, an increase in excess mortality in one year decreases the pool of individuals that could die in subsequent years.
As a result, excess mortality will likely decline in the years ahead.  However, the startling truth is that excess mortality has increased for three consecutive years since the start of the pandemic.
According to Levi, the cause of the ongoing increase in excess mortality rates is the Big Pharma jab.  Never mind the Big Pharma narrative, which claimed that the jab program would save lives and prevent additional death.  Instead, the exact opposite occurred, primarily due to employer and government-mandated injections.
Levi has hard data to support his disturbing thesis
Levi recently took to the web to provide hard data from Israel's Emergency Medical Service system about ambulance requests to treat cardiac arrest patients.  The small nation-state jabbed most of its population in the initial six months of 2021.  EMS centralized data reveals there was a 25% jump in ambulance requests for heart-related issues in those between the ages of 16 and 39 in the first half of the year.
It is no coincidence that the dramatic rise in requests for help parallels the introduction of Big Pharma's mRNA jab campaign.
Levi also highlighted autopsy reports of more than two dozen individuals who endured cardiac arrest followed by sudden death within three weeks of the jab.  Those reports prove that cardiac fallibility was caused by injections.  In summary, it appears the jab is causing myocarditis and even heart attacks that prompt emergency medical treatment.
If the science and medical communities follow in the footsteps of Levi, more of his colleagues will bravely step forward to voice their disapproval of Big Pharma's jab.  Even increased transparency from government health agencies will constitute a minor victory, serving as an important benchmark in the pathway toward improved public health outcomes.
Sources for this article include:
NBCBoston.com
Dailyclout.io
Nature.com
Researchgate.net
Odysee.com
Twitter.com