Discover how eating pistachios can reduce the risk of lung cancer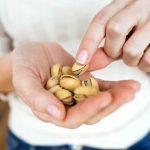 (NaturalHealth365) Pistachios are nutrient-dense nuts that offer plenty of fiber, protein, and antioxidants, and they're also an excellent source of healthy fats.  Adding these tree nuts to your daily diet offers a number of health benefits, and they may even be instrumental in preventing cancer.
One study found that eating pistachios daily was linked to a lower risk of lung cancer, and may even help prevent other types of cancer, too. As cancer continues to be a disease we're working hard to prevent and treat, finding new, natural ways to fight the disease is important. And lowering your cancer risk could be as easy as grabbing a few pistachios daily.
Gamma-tocopherol in pistachios linked to lowering the risk of lung and other cancers
Researchers have discovered that pistachios are an excellent source of gamma-tocopherol, a form of vitamin E. People that ate pistachios saw higher levels of gamma-tocopherol in their blood. According to experts, getting more gamma-tocopherol may help reduce the risk of lung cancer, as well as other types of cancers.
Other studies have suggested that gamma-tocopherol found in pistachios may also help protect against prostate cancer. While pistachios are one of the best sources of this form of vitamin E, other food sources that contain it include corn pecans, walnuts, and peanuts.  Just don't overdo the consumption of nuts, especially peanuts – which are known to be an "allergic" food.
Generally speaking, nuts (and seeds) should only be a small portion of your diet.  Another "pro tip," be sure to chew well.
Additional health benefits of eating pistachios
Beyond evidence showing that pistachios may help protect against lung cancer, there's plenty of research backing up other health benefits of eating this healthy snack.  Pistachios are packed with antioxidants like xanthanolphyll carotenoids and phytosterols, which offer anti-inflammatory and anti-aging benefits. They're also a great source of other minerals and vitamins, too, such as manganese, potassium, vitamin B6, and copper.
In addition, pistachios can help to improve blood pressure, and their healthy fats, fiber, and protein keep you feeling full – a great choice if you're working to stay lean.  They even help lower bad cholesterol levels and boost levels of good cholesterol.
In fact, some evidence suggests that they can improve blood glucose and reduce the risk of type 2 diabetes. Pistachios also increase the number of good bacteria in the gut, which can help protect the body from many health issues. With a high concentration of zeaxanthin and lutein, these nuts also keep you protected from eye problems like cataracts and macular degeneration.
So how often should you be consuming this nut to reap their health benefits like preventing lung cancer? A serving size of pistachios is about an ounce of unshelled nuts.
However, in the study that looked at pistachios for the prevention of lung cancer and other types of cancer, individuals were given about two ounces – or around 117 kernels – each day. That's twice the recommended intake you'll see on the packaging.
Great ways to enjoy this delicious food to get those health benefits include adding in salads, tossing them in desserts, crushing them to use as toppings on fish or meats, or simply grabbing a handful as a smart snack.  Enjoy!
Sources for this article include: