GREAT news for men: Eating THIS way slows prostate cancer progression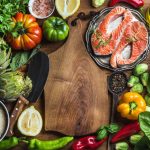 (NaturalHealth365) According to the American Cancer Society, prostate cancer is the second most common type of cancer in American men. It's estimated that more than 248,000 new cases will be diagnosed in 2021.  Prostate cancer is also the second-leading cause of cancer-related death in men within the U.S., and one out of eight men will receive a prostate cancer diagnosis at some point in their life.
Recently, researchers began to examine the impact of diet on individuals who have prostate cancer, specifically examining the Mediterranean diet in relation to the progression of the disease.  In the new study, researchers discovered that men reporting dietary habits that closely follow the Mediterranean diet's main principles did better over the course of the disease.
Stick to the Mediterranean diet to improve prostate cancer outcome
The study looked at 410 men who had Gleason grade group one localized prostate cancer.  All men underwent a confirmation biopsy and were then evaluated every six months through lab studies and clinical exams.  Participants completed food frequency questionnaires, which were used to calculate a Mediterranean diet score, with men divided into three groups, low, medium, and high adherence to the diet.
Researchers discovered a significant association between the high Mediterranean score and a reduced risk of cancer progression.  For each point increase in their Mediterranean diet score, men had a greater than 10% lower risk of the disease progressing.  Following the diet is a non-invasive option that appears to reduce prostate cancer progression, and it's also good for overall health.
What surprised researchers was that this diet's effect was even more pronounced among African American participants and additional individuals who identified themselves as non-white.  This is significant since prostate cancer diagnosis rates are over 50% higher in African American men, who also have a higher risk of disease progression and death.
There are even more benefits! Mediterranean diet slashes your risk of heart disease, cancer, and mortality too
The Mediterranean diet has been linked to a lower risk of heart disease, cancer, and mortality consistently in the past.  Previous studies have shown that individuals with heart disease that stick to the diet had an astounding 37 percent lower chance of death.  Other studies have shown a significant reduction in all-cause mortality among those who follow the diet.
Researchers believe that a large amount of polyphenols – beneficial anti-inflammatory plant compounds – likely contributes to the health benefits of the diet.  Polyphenols are known for protecting against oxidative stress, as well as their anti-obesity, anti-allergic, anti-diabetic, and anti-cancer properties.  Following the Mediterranean diet involves eating plenty of peanuts, tree nuts, olives, olive oil, and avocados, as well as antioxidant-rich vegetables, legumes, and fruits.  Adding polyphenol-rich supplements like grape seed extract or olive leaf extract to this diet may strengthen the benefits of this style of eating.
Sources for this article include: