Eliminate back pain naturally with a simple, at-home therapy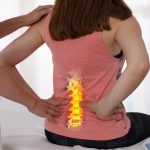 (NaturalHealth365) Chronic lower back pain, defined as pain that persists for three or more months, is the number one reason for doctor visits and hospitalization in the United States and the second leading cause of disability.
Making matters worse, this condition is often accompanied by sleep disturbances, fatigue and depression.  Of course, Western medicine attempts to treat low back pain with pharmaceutical drugs, but these can be addictive and feature toxic side effects.
Fortunately, a relatively new study from University of Michigan shows that an ancient therapy from Traditional Chinese Medicine technique may hold the key to natural relief.
The surprising study reveals that patients with chronic low back pain were able to relieve symptoms with self-performed acupressure.  But, unlike acupuncture – which uses needles – acupressure involves using a finger, thumb or wooden tool on specific body points.
Bombshell results: Study shows that self-performed acupressure cuts chronic back pain by over one third
In a randomized six-week pilot trial published in Pain Medicine, 67 participants with chronic low back pain were divided randomly into three groups. One group was trained to self-administer "relaxing" acupressure, one group was trained in "stimulating" acupressure, and the third received only conventional care with no acupressure.
Worth noting: acupressure is believed to be effective in reducing insomnia, while stimulating acupressure is thought to be effective in fatigue reduction.
Participants in the acupressure groups spent roughly 30 minutes a day performing the simple technique – which involved using a finger, pencil tip eraser or wooden acupressure aid to apply pressure in a circular motion for three minutes per point.
As a high proportion of individuals with chronic low back pain report fatigue, sleep disturbances and depression as well – researchers were interested to see if the technique alleviated any of these conditions.
And what they found was encouraging.
Participants who performed relaxing acupressure reported clinically significant decreases in pain, when compared with the non-acupressure group – while those in the stimulating acupressure group reported decreases in both fatigue and pain.
Pain was reduced by up to 36 percent in the self-performed acupressure groups – above the 30 percent threshold for "clinical significance" – with minimal adverse effects.  In addition, the stimulating acupressure reduced fatigue by 25 percent, when compared to usual care.
The researchers reported that the mild adverse effects – muscle spasms and headache – were due to applying too much pressure with the wooden tool.  These quickly dissipated when the participants were instructed to modify their technique.
Lead author Susan Murphy, ScD., an associate professor of physical medicine and rehabilitation at Michigan Medicine, called the results "promising."  "Both acupressure groups had reduced pain at six weeks compared with standard care," Dr. Murphy pointed out.
The study, said Dr. Murphy, highlights the benefits of a non-pharmacological treatment that patients can perform on their own.
Self-performed acupressure can benefit cancer-related pain
Proponents say that acupressure can help promote the flow of qi, or vital energy, that circulates through pathways called meridians, thereby helping to turn on the body's self-healing and regulatory mechanisms. It is a complementary therapy that should be used in conjunction with treatment by a licensed physician.
While studies of therapist-administered acupressure for back pain have been conducted – and are linked with significant improvements in pain and fatigue – the University of Michigan study was the very first study to examine the effects of self-performed acupressure on chronic lower back pain.
However, the University of Michigan study is not the only research to show benefits from "DIY" acupressure.  In a 2016 study published in the prestigious journal JAMA Oncology, both relaxing and stimulating self-acupressure treatments were shown to reduce fatigue and improve sleep quality in a large cohort of breast cancer survivors.
By the way, the acupressure educators who trained the participants in the University of Michigan study were themselves trained by a nationally certified and experienced acupuncturist.  If you would like to try to learn self-administered acupressure for chronic low back pain, consult a professional certified by the National Certification Commission for Acupuncture and Oriental Medicine.
Manage chronic low back pain with non-invasive natural techniques
A variety of natural techniques exist to help alleviate low back pain and related problems.  In fact, many people report relief through complementary treatments such as massage therapy, guided meditation, controlled breathing and biofeedback.
In addition, natural health experts advise engaging and strengthening the core muscles by sitting on an exercise ball for 30 minutes.  Stretches, when properly performed, can also be beneficial to loosen up tight muscles.  Consult your integrative doctor or an expert in sports medicine for guidance.
As an added form of relief, you may want to try a 15-20 minute session of heat therapy by using a heating pad or hot water/towel compress to improve circulation and relax muscle tension.
Finally, boosting levels of endorphins, natural "feel-good" brain chemicals, can block pain signals and alleviate depression and stress associated with chronic back pain.  The simple act of listening to music can release endorphins – while singing along with others can release oxytocin, another "feel-good" hormone that promotes bonding and relaxation.
Don't overlook the healing potential of essential oils
Essential oils – whether utilized through aromatherapy or applied topically – can be a valuable ally in the battle against back pain.  Natural health experts advise combining 3 to 5 drops essential oil with an ounce of a high-quality carrier oil, such as olive or avocado oil.
Essential oil of lavender – which features anxiety-reducing and mood-lifting effects – and oil of rosemary, which has anti-inflammatory and muscle-relaxing properties, can be particularly effective for lower back pain.
And, one study found that clove oil performed as well as benzocaine, the pharmaceutical topical anesthetic used by dentists, in reducing pain.  Of course, check with your integrative doctor before trying essential oils for back pain.
Chronic lower back pain can take a serious toll on health, energy and quality of life. The good news is: "DIY" acupressure – low-risk, low-cost and easy to administer – appears to be a promising natural therapy for this frustrating and often debilitating condition.
Sources for this article include:
ScienceDaily.com
SpineHealth.com
MedicalNewsToday.com
RogelCancerCenter.org