Women BEWARE: Toxic heavy metals found inside your favorite cosmetics?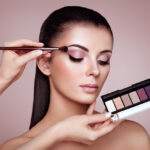 (NaturalHealth365)  With an estimated 2023 revenue of over $571 billion, plus a projected annual growth of 3.80% per year, the beauty and personal care industry clearly impacts a HUGE proportion of the global population.  Data suggest that more than 100 million American women wear makeup, such as concealer or foundation, and that the average woman wears as many as 12 different beauty products every day and absorbs nearly four and a half pounds of chemicals and heavy metals every year from cosmetics.
The question is: are women aware of the potential health risks – such as exposure to heavy metals – that they could be exposing themselves to by using mainstream makeup and skincare products?
Heavy metals detected in popular cosmetic products, according to Washington state ecology department
As featured by Children's Health Defense, a recent study by the Washington State Department of Ecology determined that heavy metals known to harm human health – including lead, arsenic, and formaldehyde – were readily detectable in a wide range of popular beauty and skincare products frequently used by state residents.
Heavy metals like arsenic, formaldehyde, and lead (the latter of which has no known safe blood level, according to the U.S. Centers for Disease Control and Prevention) have been linked to everything from cancer to fertility problems to neurological damage.
Many of the beauty and personal care products flagged by the Washington state researchers – including makeup, lotion, and hair-straightening products – are marketed to millions of uninformed consumers – on a daily basis.
While concerning, these findings "were not altogether surprising," Children's Health Defense argues.  This is because many other investigative research efforts have detected toxins in skincare products, including phalates, quaternium-15, DMDM hydantoin, imidazolidinyl urea, and Diazolidinyl urea.
These toxins are often added purposefully as preservatives or may be there incidentally as contaminants.
Now, Washington joins a dozen other states in the country – including Hawaii, Illinois, Massachusetts, Michigan, Nevada, New Jersey, New York, North Carolina, Oregon, Rhode Island, Texas, and Vermont – in an ongoing legislative quest to restrict, ban, or require disclosure of toxic chemicals in personal care products.
And many toxicology experts are calling for American state and federal agencies to establish outright bans on certain chemicals and explore safer alternatives – a formidable step modeled after the approach of legislators in the European Union.
Long-term health risks of contaminated cosmetics a concern, experts say
While the absolute levels of heavy metals in various cosmetic products may be low – and perhaps even low enough to meet the "acceptable" limits – many experts point out that this might not matter in terms of lifetime risk.
In other words, what is the impact of repeated exposure over decades of cosmetic use?  Has this impact even been properly studied and fleshed out?  I think we all know the answer to these questions.  No!
"[Beauty and personal care] products are tested to make sure they don't cause short-term problems, such as skin irritation," says Dr. Kathryn M. Rexrode in an April 2020 article published on Harvard Medical School's website.  "But they're not tested for long-term safety."
If you wear makeup regularly, consider writing to your local representatives about what you'd like to see change in the beauty and cosmetic industry.
And let's not forget about the good news:
The good news:
Now that more women are becoming more aware of the potential dangers of their CoverGirl cosmetics and other mainstream beauty brands, we are now seeing more and more low-tox and non-toxic skincare and beauty options available today.
For help finding your perfect products, check out Environmental Working Group's Skin Deep® Cosmetic Database.
Sources for this article include:
Sunmark.org
Harvard.edu
Thehealthyjournal.com
Safecosmetics.org
Statista.com
Childrenshealthdefense.org
WA.gov
CDC.gov