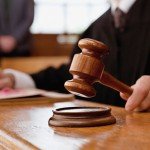 (NaturalHealth365) A Connecticut teen will be forced to allow poisonous chemicals to be pumped into her body against her will, thanks to a January 8, 2015, Connecticut Supreme Court ruling forcing Cassandra Callender to undergo chemotherapy for treatment of her Hodgkin's lymphoma.
Both the teen and her mother have argued the teen is mature and competent enough to decide what goes into her body. However, the court has ruled the teen is too young to realize the severity of her disease and what it views as the necessity of undergoing chemotherapy to save her life. The family's lawyer has said they expect to go back to trial court to more fully make the mature minor argument.
Teen wants to survive cancer with a more natural approach
Callender had run away from home to avoid treatment after undergoing two rounds of chemo in November, later being placed into the temporary custody of the state's Department of Children and Families when her mother refused to force her into further treatment, opting instead to pursue alternative cancer treatments.
Mother and daughter wish to avoid introducing deadly chemicals into the girl's system that could harm, rather than bolster, the teen's immunity in her battle against the cancer. The case is eerily familiar to the 1994 saga of Billy Best, the then-16-year-old Massachusetts teen who also suffered from Hodgkin's lymphoma and ran away to avoid chemotherapy. He, too, wished to pursue less deadly cancer treatment options.
In Billy's case, however, he was successful in avoiding chemo upon his return home and was able to pursue alternative cancer treatments. Today, Billy is healthy and cancer-free. He has now authored a book about his experience in pursuing a natural approach to ridding himself of Hodgkins lymphoma.
The harsh reality of chemotherapy treatments for cancer
Cancer patients who undergo chemotherapy often experience severe side effects, including extensive vomiting and nausea, as well as reduction in weight and hair loss. This is because the chemicals used in chemotherapy are actually cytotoxic – meaning they target the body's most active cells.
While this includes cancer cells, it also includes other cells of the body, such as cells that grow hair and cells that make up the immune system, among others. The result is that patients who survive chemotherapy are often left with damaged bodies for the remainder of their lives.
There are successful, all-natural treatment options for cancer patients
The approach using alternative cancer treatments Billy Best used to successfully rid his system of cancer without allowing deadly chemicals to enter his body is one shunned by much of the medical community. Yet, he remains in good health and cancer free a decade later.
Billy describes his regimen as taking 2 to 4 ounces of Essiac tea daily, to boost the immune system. In addition, he continues to administer two 21-day cycles every year of the alternative treatment known as 714X, also used to support his immune system. The 714X treatment is a solution of camphor, nitrogen and mineral salts banned in the United States, but still manufactured in Canada.
Billy also tries to eat healthy, avoiding processed foods as well as dairy, sugar and red meat. However, he admits to not being quite as strict with his diet as he was at the time he still had cancer. He also continues to add high-quality supplements to his diet where he believes he is not getting necessary nutrients.
References:
https://www.foxnews.com/health/2015/01/08/connecticut-supreme-court-upholds-ruling-that-teen-must-undergo-chemo
/naturalnewslinks/043582_natural_cures_cancer_chemotherapy.html#
/naturalnewslinks/012727_chemotherapy_cancer_treatments.html