Are the mRNA COVID jabs changing the essence of humanity?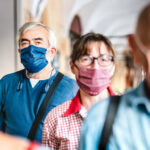 (NaturalHealth365)  Say what you will about the COVID shots – good, bad, indifferent – but there's simply no question that they have had an unprecedented impact on modern human life.  The mere fact that people have been forced to take these drugs under threat of losing their careers and freedom to mobilize, only to later learn that these drugs do not even effectively stop transmission of the virus they're intended to protect against (and actually cause more harm than good) is a painful irony that millions of global citizens have finally become wise to nearly three years after the COVID-19 pandemic began.
One must wonder: how many people who willingly rolled their sleeves up for the first two COVID jab doses (often while belittling and shaming those who chose to decline the shots) will keep willingly showing up for booster after booster after booster?  And do the compounds that these drugs contain, including the often-ignored lipid nanoparticles, have an unexpected impact on the very meaning of humanity, as one critic wonders?
Opinion: Lipid nanoparticles found in mRNA drugs poised to "negatively affect the very essence of our humanity"
Author and writer Dr. Naomi Wolf recently published an essay exploring a question that has been troubling her for some time now: "whether the lipid nanoparticles themselves may be profoundly altering human beings."
In contrast to the jab-induced spike protein – which "haunts some of the good 'dissident doctors' and honest scientists," Dr. Wolf points out – the lipid nanoparticles contained in these mRNA jabs have profoundly disturbed Dr. Wolf's conscience.  She admits that her concerns "border on the metaphysical," but that ultimately she fears these nanoparticles may "negatively affect the very essence of our humanity."
To make her case, she references recent observations she made in busy Manhattan during the post-booster dose milieu: men and women appeared "uniformly pale, or yellowish, or had a grey cast to their complexions," people of all ages moved "as if it was hurting them," and even children moved like "zombies or robots."  Is this real-time evidence, she asks, that the lipid nanoparticles accumulating in the body due to repeated COVID shot doses are harming humans, physically and mentally?
Surely, her observations are social and not scientific, and therefore they cannot prove causality in any way.  But consider what we know about these lipid nanoparticles: they cross the blood-brain barrier, cross into the placenta and breastmilk, and may cause widespread inflammation.  Because of this, Dr. Wolf argues that her question is worth asking, especially considering that Big Pharma shows no signs of letting up on their use of mRNA technology (gene-based flu shots are already underway).
Lipid nanoparticles are a "delivery system" and could be just as harmful as the medicine they intend to "deliver" into the human body, Wolf suggests
"Lipid nanoparticles are not medicines," Dr. Wolf continues in her thought exploration.  "They are a delivery system.  They are composed of tiny objects, minute particles of industrial fats … that biodistribute into your bloodstream and lodge … into various of your organs, including your brain; and including, if you are a woman, accumulating in your ovaries."  Based on this information and what she's observed among "boosted" individuals, Dr. Wolf wonders whether it's not (or not just) the mRNA COVID vaccine itself but the medium in which the vaccine is carried (aka, lipid nanoparticles) that could be damaging human health.
Consider the following: lipid nanoparticles used in the COVID shots are coated with the known carcinogen called PEG, among other compounds.  Plus, lipid nanoparticles are highly dependent on and sensitive to temperature.  Isn't it plausible, Dr. Wolf asks, that a compound highly sensitive to temperature and coated with a toxic agent could degrade quickly into a harmful agent once inside the human body?
And since researchers have shown that the mRNA jab components quickly disperse into various parts of the body (blood, brain, placenta, and countless other organs), couldn't this help explain the widespread and unusual changes Dr. Wolf observes in boosted individuals, such as "damaged hearts, lowered sexual desire and potency, lessened human bonding, the various forms of male and female sterilization … rigidified thinking" and more?
More questions remain about the true safety and impact of these shots and any future shots like them.  Let's hope these questions are appropriately explored and answered.
Sources for this article include: