BREAKING NEWS: Contaminated organic dark chocolate, grass-fed butter and ketchup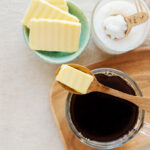 (NaturalHealth365)  We're all doing our best to make healthy choices for our families – so when we find out that some of our favorite foods, like grass-fed butter and dark chocolate, contain potentially harmful compounds, it can feel pretty disheartening.
Because let's face it: it's hard enough sifting through all the noise surrounding nutrition, low-tox living, and general health and wellness.  Nobody wants to have to ask themselves about every product they put in their grocery cart, "Is it safe?"  Unfortunately, and at the very least (given the state of the food industry these days), it may be worth your while to research some of your most frequently-used pantry items just to be sure …
Consumer WARNING: Popular foods touted as healthy contaminated with harmful chemicals and heavy metals
Irish Kerrygold is a favorite among the butter brands you'll find on supermarket shelves today.
Known for its rich yellow color and deep taste, this butter comes from grass-fed cows, making it a go-to for many health-conscious consumers.  (Compared to regular butter, grass-fed butter contains a higher dose of healthy omega-3 fats like conjugated linoleic acid and serves as a potent source of vitamins A and K.)
However, a recent news report claims that the bright gold wrappers used on the large blocks of Kerrygold contain toxic compounds called per- or polyfluoroalkyl carbons, aka PFAS or "forever chemicals."
While desirable among food packaging manufacturers for their powerful grease-resistant properties, PFAS have been associated with a wide range of potential health problems in humans.
Of course, the Kerrygold butter brand has already had its fair share of controversy.
In 2018, the companies in charge of Kerrygold, Ornua North America, Inc., and Ornua Co-operative Limited, were sued in a Californian federal court for misleading the public after it was found that their cows are actually fed "genetically modified and other grains instead of non-grain and non-GMO alternatives," according to ClassAction.org.
Notably, this lawsuit was later dismissed by U.S. District Judge Marilyn L. Huff, stating that the companies never implied Kerrygold cows were "100 percent" grass-fed in the first place – and indeed, they aren't (according to their website, Kerrygold cows are actually fed only between 85 and 90 percent grass).
Shocking: Even many organic brands of dark chocolate found to have high levels of cadmium and lead
The buck doesn't stop with butter, unfortunately.
As another example, Consumer Reports (CR) announced in December 2022 that their team discovered elevated levels of "dangerous" heavy metals such as cadmium and lead in many popular chocolate brands, including Hershey's, Theo, Trader Joe's, Lindt, Alter Eco, Dove, Beyond Good, Godiva, Hu, and Lily's.
In their report, CR does offer some safer alternatives that have lower amounts of heavy metals, based on their testing.  These safer dark chocolate options include:
Ghirardelli Intense Dark Chocolate Twilight Delight 72% Cacao
Mast Organic Dark Chocolate 80% Cocoa
Taza Chocolate Organic Deliciously Dark Chocolate 70% Cacao
Valrhona Abinao Dark Chocolate 85% Cacao
For more about popular foods with unexpected potential health risks, check out this video posted to YouTube on February 22, 2023, by WFMY News 2, based out of Greensboro, North Carolina:
As for staying well-informed, consider doing a gradual inventory of your pantry and kitchen – and check sites like NaturalHealth365, Consumer Reports, and Recalls.gov for more food safety info.
Please remember: there's no need to panic or become overly vigilant, especially since we know how harmful stress can be!  It's okay to trust that the healthy lifestyle choices you're making as a whole (sleep, stress management, daily exercise, and whole foods-based nutrition) are making a positive impact.
Just know that it's never too late to bring a little more awareness to the healthy choices you're already making for yourself and your loved ones.
Sources for this article include:
YouTube.com
Classaction.org
Consumerreports.org
Wiley.com
NIH.gov