"Small but mighty" chives offer a trio of important health benefits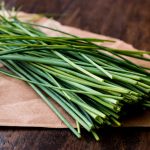 (NaturalHealth365)  Scientists have long been aware of the ability of onions and garlic – both members of the super-healthy allium family of vegetables – to support the function and well-being of the immune system and the heart.  But chives, the smallest members of the family, could possibly outdo their larger cousins in providing health benefits – while contributing a milder flavor and aroma.
Botanically known as Allium schoenoprasum, the chive plant features hollow green stems with a piquant oniony taste.  According to recent research published in the journal Pharmaceutical Biology, chives have the highest content of antioxidant polyphenols (beneficial plant compounds) of any of the allium family.  And, this abundance of natural "goodies" can pay big health dividends.  To discover three of the most impressive benefits of chives, keep reading.
Chives promote heart health with a pair of high-powered plant chemicals
Like onions and garlic, chives are rich in a sulfur-containing compound known as allicin, which promotes the release of beneficial nitric oxide and optimizes blood flow from the heart to other organs in the body.  With both antioxidant and anti-inflammatory properties, allicin has been linked in studies to lower levels of harmful LDL cholesterol.  It may also maintain normal blood pressure and reduce the tendency of blood to form into dangerous clots, thereby helping to protect against stroke and coronary artery disease.
In addition, chives are particularly high in a flavonoid called quercetin.  In a 2020 review published in the International Journal of Molecular Science, the authors noted that quercetin "seems to exert strong cardioprotective effects in a wide range of experimental models of cardiac injury," likely due to its antioxidant, anti-inflammatory, and molecular pathways-modulating properties.  While more human studies are needed, the scientists reported that quercetin was effective at supporting healthy blood pressure levels in both animals and humans in early studies – in addition to providing "robust" heart-protective effects.  With both allicin and quercetin in their health-promoting arsenal, chives can help support the optimal function of your heart and circulatory system.
Benefits of chives include helping to preserve vision
Another helpful pair of plant compounds in chives, lutein, and zeaxanthin, are believed to protect against age-related macular degeneration, the leading cause of blindness in people over 65.  These natural plant pigments can help protect the macula of the eye from damage from ultraviolet and "blue" light – and are so effective that some scientists characterize them as "sunscreen for the eyes."
In fact, experts at the American Optometric Association endorse lutein and zeaxanthin as part of the AREDS (Age-Related Eye Disease Study) vitamin formulation to prevent macular degeneration.  As a bonus, chives are packed with antioxidant vitamin A, another micronutrient believed to enhance and sharpen vision.
Do NOT ignore the health dangers linked to toxic indoor air. These chemicals - the 'off-gassing' of paints, mattresses, carpets and other home/office building materials - increase your risk of nasal congestion, fatigue, poor sleep, skin issues plus many other health issues.
Get the BEST indoor air purification system - at the LOWEST price, exclusively for NaturalHealth365 readers. I, personally use this system in my home AND office. Click HERE to order now - before the sale ends.
Chives contribute a cornucopia of vitamins and minerals
Chopped chives deliver an impressive variety of nutrients – yet only contain a negligible 3 calories per tablespoon.  According to the United States Department of Agriculture, this serving contributes 8 percent of the adult recommended dietary intake for vitamin K.  This important fat-soluble nutrient contributes to bone health by promoting the production of osteoblasts (cells that form and strengthen bone).
Vitamin K also "does its bit" for heart health by helping to keep calcium in the bones and out of the arteries – thereby helping to protect against unwanted atherosclerotic plaque.  In addition to providing vitamin K, chives offer up antioxidant vitamin C, which helps produce the collagen needed for healthy skin and arteries.  Other health-sustaining nutrients in chives include choline – an essential component of acetylcholine, a neurotransmitter that helps with sleep, mood, and cognition – and folate, a type of B vitamin that helps prevent neural tube defects in newborns.
Elevate recipes with fresh chives
Chives are among a select ensemble of seasonings known in French cuisine as "fines herbes" – or "the fine herbs."  (The others are chervil, parsley, and tarragon).  Whether used "solo" or as part of a team, chives can enhance salads, soups, stews, and dips with their mild, tangy taste and attractive green color.  Sprinkle chives on a baked potato with yogurt, add them to a mixed green salad, or use them to accent omelets or scrambled eggs.  The satisfying flavor of chives may help you use less salt – a definite "plus" if you are looking to reduce your sodium intake.
(Pro tip: Don't cut your chives until you are ready to use them.  And – when used in soups, quiches, or other cooked dishes – chives should be added late in the process to protect their delicate flavor and antioxidant value.)
By the way, it's not hard to grow your own fresh chives on a sunny kitchen windowsill.  When the green shoots reach six inches long, simply snip them as needed – then enjoy the sophisticated flavor and many health benefits of chives.
Sources for this article include:
OrganicFacts.net
NIH.gov
NIH.gov
MedicalNewsToday.com
AmericanOptometricAssociation.org