NH365 034: Astaxanthin – A powerful antioxidant to help defeat chronic fatigue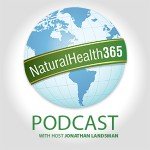 (NaturalHealth365) We see millions of people suffering from cellular inflammation which sets the stage for a variety of serious health issues like arthritis, cancer, chronic fatigue and, of course, cardiovascular disease. Unfortunately, most conventionally-trained physicians are ill-equipped to educate their patients about lifestyle changes – which would eliminate many of the symptoms associated with chronic disease.
Today, on the NaturalHealth365 Podcast, Jonathan Landsman and Dr. Susan Smith Jones talk about one of nature's most powerful superfoods – which is loaded with antioxidants and can help you live a better quality of life.  Find out what happens when you consume high-quality astaxanthin. (keep reading)
Links related to the show:
1. For more information about Dr. Susan Smith Jones – visit: SusanSmithJones.com
2. To learn more about BioAstin Hawaiian Astaxanthin – visit: Nutrex-Hawaii.com
3. Subscribe to the NaturalHealth365 newsletter to receive lots of great health gifts + the latest news and information on natural health solutions.
You may be wondering: "Why don't more doctors know more about nutrition and nutritional supplements?"
The answer is plain to see. Simply put, Western medicine and (specifically) medical schools brainwash doctors into believing that the ONLY way to treat disease is with toxic chemicals to control symptoms and NEVER address the true cause of disease.
How do I know this? Because I've literally interviewed hundreds of physicians and they admit (to me) this truth about their training. It is only after they became frustrated with their training – that they started to learn about the value of nutrition – especially the importance of an antioxidant-rich diet.
Improve your overall health and watch chronic fatigue symptoms fade away
There is a natural way to help support the health of your skin, eyes and brain function. By taking BioAstin Hawaiian Astaxanthin – you can improve your health without the risk of negative side effects. Let's take a closer look.
As a powerful antioxidant, BioAstin Hawaiian Astaxanthin has been documented to show a wide range of benefits in human clinical studies on several health concerns including joint and skin health.* Due to its molecular structure, Astaxanthin is one of the few antioxidants that can move throughout the entire body and provide protection to all of our cells.
Astaxanthin has the unique property of protecting the entire cell because of the polar hydrophilic ends that span across the entire cell membrane. Most other well-known antioxidants cannot do this. BioAstin Hawaiian Astaxanthin comes from fresh water algae grown on our farm in Kona, Hawaii.
What are the benefits of BioAstin Hawaiian Astaxanthin?
Supports joint and tendon health*
Supports skin during UV and sun exposure*
Supports eye and brain health*
Improves recovery from exercise*
BioAstin Hawaiian Astaxanthin provides more protection from the damaging effects of free radicals or oxidative stress, helping your body to better prevent future oxidative damage.
Hawaiian Astaxanthin is free of yeast, corn, wheat, gluten and lactose. This is important – because so many nutritional supplements are loaded with toxic ingredients, which can increase your risk of an allergic reaction or add to your toxic burden. With BioAstin Hawaiian Astaxanthin, you don't have to worry about unwanted substances. This product is non-GMO and BSE free.
What is Astaxanthin and where does it come from?
Astaxanthin is a carotenoid, which are pigment colors in nature. Astaxanthin is the red pigment color found in salmon, shrimp, crab and even the pink color in flamingos. BioAstin Hawaiian Astaxanthin is derived from microalgae called Haematococcus Pluvialis. It is grown on land in controlled, fresh water ponds and contains no fish or shellfish bi-products.
How does Astaxanthin work?
BioAstin Hawaiian Astaxanthin works throughout the entire body – our eyes, brain, cardiovascular system, muscles, and skin. It supports a healthy oxidative balance which leads to improvements in many health conditions.*
*These statements have not been evaluated by the Food and Drug Administration. This product is not intended to diagnose, treat, cure, or prevent any disease.