NH365 002: Curing autoimmune diseases naturally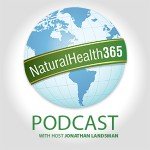 (NaturalHealth365) Conventionally speaking, there is no 'cure' for autoimmune diseases. In fact, the best you can hope for from western medicine is toxic medication with lots of trial and error – to see what may help slow the progression of disease.
But, what if there was a better way? Would you be interested?
In this episode, Jonathan Landsman, host of NaturalHealth365 talks to Denise Otten, author of Curing Courtney and natural health and lifestyle coach about the 'triple antioxidant protocol' that cures autoimmune diseases.  Denise specializes in helping families to eliminate the stress of autoimmune conditions naturally without the need for toxic drugs or risky surgical procedures.
Autoimmune diseases can be eliminated naturally: One mom proves it
Denise will talk about how she successfully helped her daughter, Courtney, overcome a deadly condition called, autoimmune hepatitis – which threatened to take the life of her 7-year old daughter. After 5 years of unsuccessful treatment, by the best pediatric hepatologists in New York City, her doctors said, 'the meds aren't working'.
In fact, they suggested that Courtney take a leukemia-type drug and possibly wait for a liver transplant. That's when Courtney's mom said 'enough'!  But, she needed to find some answers – fast.
What to do when frustrated with your doctor
Denise decided to walk away from conventional medicine and looked for alternative treatments. Thankfully, she found a winning formula that she shares with all of us on this podcast – below.
Program highlights include:
Denise talks about, her daughter, Courtney's remarkable story of recovery from autoimmune hepatitis.
Learn exactly what the 'Triple Antioxidant Protocol' is and how it cures autoimmune disease.
Discover what foods to avoid – at all costs.
Denise talks about the key to success in overcoming AI disease.
Find out how Denise can help you – personally!
Links related to the show:
Visit: CuringCourtney.com to learn more about Denise Otten and her story of triumph.
Buy the book: "Curing Courtney"
Subscribe to the NaturalHealth365 newsletter to receive the latest natural health news and podcast episode updates.