NH365 001: Design a living kitchen for optimal health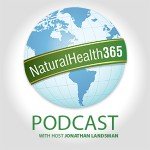 (NaturalHealth365) In our first podcast episode, Jonathan Landsman, host of NaturalHealth365 and Linda Kordich, a living foods expert talk about how to design the best 'living kitchen' for optimal health.
This entertaining program makes it easy to dramatically improve the quality of your life by making simple changes to your lifestyle.
Program highlights include:
The #1 reason why people STOP eating a healthy diet.
The best kitchen appliances to use in the kitchen for optimal health.
Understanding the true meaning of a 'Living Kitchen'.
5 steps that ANYONE can do to create the perfect (healthy) kitchen.
Great ways to get started with minimal effort or expense.
Links related to the show:
Visit: JayKordich.com for the latest programs offered by Linda Kordich.
Subscribe to the NaturalHealth365 newsletter to receive the 7-Day juice cleanse by Jay and Linda Kordich.
Editor's note: Jay passed away on May 27, 2017.  Jay was a dear friend of mine and my loving tribute can be found here.