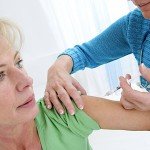 (NaturalHealth365) The World Health Organization (WHO) has just announced that an Ebola vaccine will be available, hopefully, by the end of 2015. By that time, they hope to have 'millions of doses' to offer the public – with potentially "hundreds of thousands" of vaccines available by the first half of 2015.
Honestly, with the failed history of most vaccination programs – does anyone really believe that an Ebola vaccine will work? Let me put it another way, would you like to be the first Ebola vaccine guinea pig?
So, until a vaccine is created, what are we supposed to do? Just wait and see if someone else presents symptoms or not? According to the WHO, Centers for Disease Control and every other government-sponsored health agency – we're supposed to immediately quarantine any person showing signs of Ebola (i.e. a fever).  And, while that's great advice AFTER a person is infected – shouldn't we focus more attention (and money) into how to prevent viral infections?  
Do you trust these people with your life?  Click here to watch the WHO Ebola vaccine announcement (Youtube video)  I, for one, don't feel safer with these people in charge of public health.  In fact, I put much more faith in optimizing vitamin D levels; eating organic food – as much as possible; and, if I were to get infected with a virus, I would implement the 'multi-C protocol' – immediately!

Government-run health agencies are losing public trust
We've all heard the propaganda, by now, there is "no cure for Ebola" – when, in fact, we already know how to stop the spread of viral infections.  Dare I say, it's called a strong immune system and it's well-supported in the medical literature.  Yet, conventionally-trained healthcare providers and the mainstream media continue to ignore (highly-effective) immune-boosting protocols.  If you work for the government – please, just look it up for yourself before you pass judgement on such a statement by me.
Again, to some people, this may seem like a 'radical' idea – but why don't taxpayer-funded health agencies look at the effectiveness of natural protocols for Ebola. Are they afraid it might work?
The Ebola virus outbreak, of 2014, is the largest in recorded history. But, with the current death statistics at nearly 5,000 – it's nothing compared to what we're about to see.  And, no, I don't think this is an unrealistic statement to make.
Published in the October issue of The Lancet Infectious Diseases, a team of Yale researcher predict that we'll see 'tens of thousands of new Ebola cases – and deaths' by mid-December, 2014.  According to Alison Galvani, professor of epidemiology at the School of Public Health and the paper's senior author, "our predictions highlight the rapidly closing window of opportunity for controlling the outbreak and averting a catastrophic toll of new Ebola cases and deaths in the coming months,"
She continues by saying, "although we might still be within the midst of what will ultimately be viewed as the early phase of the current outbreak, the possibility of averting calamitous repercussions from an initially delayed and insufficient response is quickly eroding."
A harsh reality MUST be recognized about the current Ebola virus outbreak
Even though I'm sure that some people in government (and public health) have good intentions, in reality, there's too much money to be made from sickness and death. As crazy as this may sound, I'm sure there are government officials in some West African nations NOT interested in helping their people. Naturally, the question is 'why'?
Simply put, this is merely a case of profit over people. Just like any other country, these days, political leaders want to appear in control and NEVER bite the hand that feeds them. Even if that means that people will die.
For example, imagine if you were a corrupt individual running a country dealing with an Ebola virus outbreak. Now, imagine getting paid tens of thousands of dollars to lead the 'relief effort' and someone came along with a cure for Ebola. Would you welcome that cure? (remember, we're dealing with corrupt individuals)
Of course, the obvious answer is no! Corrupt politicians don't care about people – they just want to keep their power, control and money. And, although this may sound like a movie plot (to some people), I can assure you this is exactly what's happening in West Africa – as we speak. Stay tuned for more updates as they develop and, personally, I wouldn't hope, too much, that an Ebola vaccine will save the day.
About the author: Jonathan Landsman is the host of NaturalHealth365.com, the NaturalNews Talk Hour – a free, weekly health show and the NaturalNews Inner Circle – a monthly subscription to the brightest minds in natural health and healing.
Reaching hundreds of thousands of people, worldwide, as a personal health consultant, writer and radio talk show host – Jonathan has been educating the public on the health benefits of an organic (non-GMO) diet along with high-quality supplementation and healthy lifestyle habits including exercise and meditation.
References:
https://youtu.be/7uno6KEt9Bg
https://www.courant.com/health/hc-yale-ebola-study-1024-20141023-story.html