Fauci, Pharma CEOs and more accused of genocide and crimes against humanity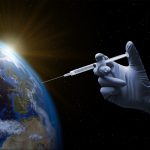 (NaturalHealth365)  National Institute of Allergy and Infectious Diseases (NIAID) director and United States White House medical advisor, Dr. Anthony Fauci, has been accused of funding and pursuing dangerous gain-of-function research on bat coronaviruses in Wuhan, China, even after U.S. government officials attempted to shut the research down.  Now, he and his ilk are being accused of committing crimes against humanity.
We truly are facing so many important and as-yet-unknown questions: how will history capture these times?  How will people remember the massive movement against lockdowns, mask mandates, and vax mandates, including the massive trucker convoy currently going on in Canada?  Will these enormous demonstrations that embody the willingness to ask questions and stand up for basic human rights even make it past the fact-checkers and Big Brother-types that would rather rewrite the past to fit the narrative?  Perhaps, with more people willing to make their voices heard and hold officials accountable, history will reflect well on those who support medical freedom.
Complaint goes to court: Fauci, Pharma CEOs, and more accused of crimes against humanity before the ICC
Representing seven applicants on behalf of the British people, a United Kingdom legal team recently filed a complaint with the International Criminal Court (ICC) accusing major pandemic players of numerous Nuremberg Code violations, including crimes against humanity and war crimes that range from suppressing early therapeutics to engaging in economic and psychological warfare on U.K. citizens.
Dr. Michael Yeadon, one of the seven applicants and former vice president and chief scientist of allergy and respiratory research at Pfizer, has openly expressed his concern over the vax propaganda and mandate madness and announced his jaw-dropping belief that "[COVID-19 booster shots] are going to be used to damage your health and possibly kill you."
All told, over a dozen individuals have been listed as defendants in the legal filing with the ICC:
Dr. Anthony Fauci, director of the NIAID
Dr. Peter Daszak, president of EcoHealth Alliance
Bill and Melinda Gates
Albert Bourla, CEO of Pfizer
Stephane Bancel, CEO of Moderna
Pascal Soriot, CEO of AstraZeneca
Alex Gorsky, CEO of Johnson & Johnson
Tedros Adhanhom Ghebreyesus, director-general of the World Health Organization
Boris Johnson, U.K. prime minister
Christopher Whitty, U.K. chief medical adviser
Matthew Hancock, former U.K. secretary of state for Health and Social Care
June Raine, U.K. chief executive of Medicines and Healthcare products
Dr. Rajiv Shah, president of the Rockefeller Foundation
Klaus Schwab, president of the World Economic Forum
There's no question that anyone trying to bring legal action against these powerful figures will have the odds stacked against them.  Read here to learn more about the ICC legal filing.
Meanwhile, in Canada: MASSIVE Ottawa jab mandate protest downplayed as nothing more than a "fringe minority" of people
In a speech aired on national television on January 27, Canadian Prime Minister Justin Trudeau coldly and brazenly accused the citizens headed to the nation's capital in peaceful protest of the federal COVID shot mandate for truckers as a "fringe minority" of people with "unacceptable views."  Apparently, the view that your right to choose which drugs will be injected into your body – without the fear of losing your job or ability to travel freely in society – is "unacceptable."
Yet tens of thousands of people – truckers and supporters alike – are amassing in Ottawa or standing in solidarity with the convoy along the way.  And despite minimal coverage, the massive protest has garnered international support from onlookers all over the world.  The dismissive claim that this historic event somehow involves only a "fringe minority" of people is preposterous and blatantly misleading.
It should also be noted that participants and proponents of this massive trucker convoy are generally consistent on an important point: this is an anti-mandate protest, not an "anti-vax" protest, as many mainstream media outlets insist.  The message of these truckers and protesters is the same message that the medical autonomy community champions: people should not have to choose between getting a medical product and feeding their families.  It is asinine to suggest that medical coercion from the government or employers has any place in free societies.  The choice to get a vax or not, in light of one's own unique risk/benefit profile, should remain a personal and private decision – full stop.
We must be mindful of the rhetoric that will come from this massive protest, which is already predicted by some to go down as Canada's largest protest in history.  Many believe the media will simply turn this into another opportunity to polarize the public and blame the "unvaxxed" for the world's current problems, such as major supply chain shortages that will likely arise.
What you can do: offer your support if you feel compelled, connect with your community, stay present, maintain your healthy habits, and prepare your family by stocking up on healthy essentials.
Sources for this article include:
Mercola.com
Globalnews.ca
Reuters.com
Planetlockdownfilm.com
Docdroid.com