Buyer BEWARE: World's most expensive coffee linked to dangerous Chinese wildlife markets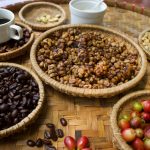 (NaturalHealth365) Live octopus, braised chicken feet, chili-dusted, roasted grasshoppers… welcome to the world of exotic food. Adventurous consumers have long been willing to pay an exorbitant price to try something new. Now they're paying an exorbitant price AND risking their lives, and all for a once-in-a-lifetime chance to experience the world's most expensive coffee.
But seriously, how luxurious does this sound? Kopi Luwak coffee is made from the excrement of Asian Palm Civets, mammals that have been linked to transmitting the SARS virus to humans. It's also possible these disease-prone animals might be the breeding ground for the next global pandemic.
The shocking truth behind the world's most expensive coffee
Kopi Luwak, which in the West is nicknamed "cat poop coffee," dates back to the 18th century, when Dutch colonial rule established coffee plantations on the islands of Java and Sumatra.  Today, the Kopi Luwak industry is a thriving attraction in Southeast Asia, and tours of civet coffee farms are sold to tourists on TripAdvisor and other travel sites.
What was once a specialty industry – and one almost exclusively produced by wild civets eating coffee cherries in the wilderness – is now operated by giant plantations that house hundreds of caged civet cats.  Moreover, civet cats – a nocturnal, weasel-meets-raccoon-like mammal – are commonly sold at Chinese wildlife markets, which according to many scientists is ground zero of many health issues.
From an animal welfare perspective, the farming methods required to meet the high demand for Kopi Luwak are disturbing and inhumane.  Civet cats are caged in small enclosures and force-fed coffee cherries (the force-feeding method is similar to how fois gras geese are treated in France).  The coffee beans are digested and defecated. The animals' digestive enzymes change the structure of proteins in the coffee, removing the acidity and giving it an earthy flavor.
How caging animals can result in the spreading of viruses
Civet cats are linked to the first pandemic of the 21st century: SARS.  In 2003, SARS infected over 8,000 people. Unlike COVID-19, SARS was contained quickly and the worldwide death toll was low.
According to Wang Ming, an official from the Guangzhou Center for Disease Control and Prevention, the SARS coronavirus found in humans was the same as the one found in civet cats, and severe acute respiratory syndrome is believed to have spread from bat to civet to human.
Civet cats held in wire cages, in unsanitary conditions, and exposed to tourists and daytime noise (noises are particularly disturbing to these solitary and nocturnal creatures) are prone to stress, and stress can lead to illnesses, viruses, and a host of other issues. Civet cats held in captivity and living in close proximity to one another are known to have serious health problems.
No doubt, the Kopi Luwak industry is a potentially life-threatening cocktail of poor decision making and greed. Notoriously disease-prone civet cats shouldn't be caged, and humans and potentially disease-carrying animals shouldn't be brought close together in unnatural conditions.
Let's be honest: no cup of "luxury" coffee is worth risking another health crisis.
Sources used for this article include: