Foodopoly: How a few corporations dominate the global food supply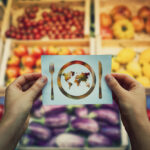 (NaturalHealth365)  Do you foresee any issues with a handful of transnational corporations having near-total control of the world's food supply?  For a growing number of people, the answer is yes!
A new report from the Erosion, Technology and Concentration (ETC) Group airs several of their own concerns about this growing trend – concerns which range from the over-reliance on technology and artificial intelligence (AI) to the prioritization of profits over environmental and human health.
11 key sectors of global food supply under the thumb of small group of corporations: Is Big Tech and Big Food colluding for control?
The ETC Group is an organization dedicated to monitoring "the impact of emerging technologies and corporate strategies on biodiversity, agriculture and human rights," according to their website.
In September of last year, this group released their report called "Food Barons 2022 – Crisis Profiteering, Digitalization and Shifting Power."  In it, the collaborators analyzed 2020 market data to provide an eye-opening rundown on "the biggest players up and down the industrial food and agriculture chain."
Specifically, ETC Group calls out Big Ag, Big Tech, and Big Finance as the "three critical, multi-sectoral trends" that have allowed just a handful of so-called Food Barons – including asset management firms State Street, Blackrock, and Vanguard – to exert "increasing influence over the levers of corporate power in food and agriculture."
These corporations, the ETC Group argues, exert massive control and sway over 11 essential food and agricultural sectors, including seeds, agrochemicals, livestock genetics, synthetic fertilizers, farm machinery, animal pharmaceuticals, commodity traders, food processors, Big Meat, grocery retail, and food delivery.  This "top-heavy" control has enabled these companies "to wield enormous influence over markets, agricultural research, and policy-development, which undermines food sovereignty," the group concludes.
Some, such as Exposé News, have lauded the report while also questioning the ETC Group's use of mainstream narratives about the so-called climate change and racial crises.  But criticisms aside, the report offers a stunning indictment of the so-called "Food Barons," who "exploit workers, poison soil and water, diminish biodiversity, prevent climate justice and perpetuate a food system structured upon racial and economic injustice," according to the ETC Group.
Vote with your spending money: How to find locally-sourced food
With the rising costs of food – let alone the rising costs elsewhere in the average American's household budget – it may not be feasible for you to purchase all your meat and produce from locally sourced growers.
No problem!  Dedicating even a portion of your grocery budget to local resources takes from Big Food and instead gives more to your community, along with other benefits (according to GrowNYC, buying local food from sustainable producers supports a healthy environment, preserves plant genetic diversity, and reduces your food's in-transit time, which equals better tasting, more nutrient-rich food).
Even the ETC Group, in their report, calls for readers "to divest from the Industrial Food Chain."
So, looking for some ideas about how you can make your dollars count?  Here are some ideas to get you started:
Make an effort to hit up any local farmer's markets in your area (be sure to jot them down on your calendar)
Look for locally-grown products at your neighborhood natural foods store
Check out the U.S. Department of Agriculture's local food directories, which features links that can help you find sustainable food producers near you, including community-supported agriculture (CSA) groups, farmers' markets, and on-farm markets
The National Sustainable Agriculture Association also offers tons of great resources, including a state-by-state directory of resources to help you find local food
Finally, if you have the space, time, and interest, it's never been a better time to experiment with growing your own garden.  Many local communities have garden clubs or other resources you can access through your community center, Chamber of Commerce, or library.
Sources for this article include:
Expose-news.com
Etcgroup.org
Sustainableagriculture.net
Grownyc.org