NH365 042: Eliminate gray hair – A natural solution to toxic chemicals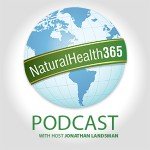 (NaturalHealth365) We are very pleased to announce literally a scientific breakthrough designed to get rid of gray hair without the need for toxic chemicals or artificial (often) harmful coloring agents.
The inventor of this revolutionary new product, is one of the most honored chemists of our time. In 2014, he was awarded the Perkin Medal, widely acknowledged as the highest honor in American chemistry and, over a period of four years, has perfected a safe, healing and non-toxic process to eliminate gray hair from your life with remarkable results.
Great news: You can eliminate gray hair without chemicals
"I have not seen my hair like this since I was 25 years old." – J.G., Age 50, Professional Hair Stylist, Los Angeles, CA

Today, on the NaturalHealth365 Podcast, Jonathan Landsman and Dr. John Warner talk about how to naturally regain your original hair color without the need for conventional (toxic) hair dyes or dangerous chemical substances. In fact, all the ingredients in this revolutionary product are food grade. In other words, you could safely eat this product – although it wouldn't taste so good.
Links related to the show:
1. For those interested in the science of "green chemistry" – visit: BeyondBenign.org
2. Click here to learn more about how to regain your original (healthy) hair color – naturally.*
3. Subscribe to the NaturalHealth365 newsletter to receive lots of great health gifts + the latest news and information on natural health solutions.
What exactly is "Green Chemistry?"
According to Dr. Warner, for a technology to be considered "Green," it must accomplish three things:
It must be more environmentally benign than existing alternatives.
It must be more economically viable than existing alternatives.
It must be functionally equivalent to or outperform existing alternatives.
Bottom line, the goal of green chemistry technology, is to "introduce environmentally benign alternatives to current materials and technologies" – in order to help ensure a more "environmentally and economically sustainable future" for all of us.
Who is the inventor of this revolutionary NEW hair product?
Dr. John Warner is the recipient of the 2014 Perkin Medal, widely acknowledged as the highest honor in American Industrial Chemistry.
He received his BS in Chemistry from UMASS Boston, and his PhD in Chemistry from Princeton University. After working at the Polaroid Corporation for nearly a decade, he then served as tenured full professor at UMASS Boston and Lowell (Chemistry and Plastics Engineering).
In 2007, he founded the Warner Babcock Institute for Green Chemistry, LLC – a research organization developing green chemistry technologies – where he serves as President and Chief Technology Officer, and Beyond Benign, a non-profit dedicated to sustainability and green chemistry education.
He is one of the founders of the field of Green Chemistry, co-authoring the defining text Green Chemistry: Theory and Practice with Paul Anastas. He has published over 200 patents, papers and books. His recent work in the fields of semiconductor design, biodegradable plastics, personal care products, solar energy and polymeric photoresists are examples of how green chemistry principles can be immediately incorporated into commercially relevant applications.
In addition, John received The 2004 Presidential Award for Excellence in Science Mentoring, the American Institute of Chemistry's Northeast Division's Distinguished Chemist of the Year for 2002 and the Council of Science Society President's 2008 Leadership award. He was named by ICIS as one of the most influential people impacting the global chemical industries. And, in 2011, he was elected a Fellow of the American Chemical Society and named one of "25 Visionaries Changing the World" by Utne Reader.
Restore your natural hair color – without toxic chemicals.  Click here to order this revolutionary product today!*
*The purchase of this product does help support our operations – at no extra cost to you.