Griner vs. Biden: Historic LAWSUIT filed in District Court of Utah against President Joe Biden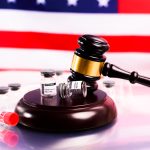 (NaturalHealth365)  A civil rights lawsuit out of Utah against the President of the United States, Joe Biden, allegedly exposes some important information about the highly profitable COVID shots and the companies that manufacture them, including Pfizer and Moderna.
Filed March 4, 2022, in the US District Court for the District of Utah, the lawsuit is one of many lawsuits recently brought against government officials in the wake of the controversial pandemic mitigation measures, and COVID shot rollouts.
A hint at more litigation to follow?  Long list of concerns raised in Griner v. Biden et al lawsuit
Official dockets introduce several exhibits that will reportedly be introduced as evidence in the Griner v. Biden et al case.  They include the following:
Exhibit Article #2: Fully Vaccinated People Who Get a COVID-19 Breakthrough Infection Transmit the Virus
Exhibit Article #12: It's Illogical and Unethical to Force Jab on NHS Staff
Exhibit Article #13: An observation study of breakthrough SARS-CoV-2 Delta (remember when "breakthrough infections" were listed as "rare"?)
Exhibit Article #19: The COVID-19 spike protein may be a potentially unsafe toxic endothelial pathogen
The key plaintiff is a pediatric craniofacial plastic surgeon from Utah, Dr. Devan Griner.
Dr. Griner, who has chosen not to get injected with the mRNA COVID shots, says that Biden and HHS's vax mandate imposed on healthcare workers is unconstitutional as it violates his Fifth and Fourteenth Amendment rights.  He also says that because he is unvaccinated, he is facing the loss of his ability to practice medicine.
In a March 4, 2022 interview with ABC4 Utah, Dr. Griner says, "I want people who feel good about [the shot] to go get it.  I want people who don't feel good about it to wait … Morally, I can't go against what I'm feeling.  If that means the hospitals take away my privileges, then that's what's going to happen.  It breaks my heart."
Defendants listed in this lawsuit include President Biden, the United States Secretary of Health and Human Services Xavier Becerra, the Administrator for the Centers for Medicare and Medicaid Services (CMS) Chiquita Brooks-LaSure, the Deputy Administrator and Director of Center for Medicare Dr. Meena Seshamani, and Deputy Administrator and Director of Center for Medicaid and CHIP Services Daniel Tsai.
Added context: Dr. David Martin offers more insight into lawsuits against Biden, CMS, HHS
To better understand the current lawsuits against the President and powerful 3-letter agencies, you can also watch this video (link below) with Dr. David Martin, where he introduces some questionable business dealings that Pfizer shares with its associates, such as Acuitas Therapeutics, a leading provider of the lipid nanoparticle technology used in Pfizer's gene therapy drugs.
In another video posted to Rumble, Dr. Martin goes into more detail about his current qualms with the COVID shot rollout.  Watch the video here:

Among his many claims, Dr. Martin states that after getting injected by the mRNA shot, a person's body "becomes a biological weapons factory, manufacturing the spike protein, a scheduled pathogen with genetic sequences derived from SARS-CoV-2."
"The injection does not stimulate any immunity to SARS-CoV-2," he adds.  "At best, you're getting immunity to the first variation of the computer-simulated first spike protein that was first thought to be associated with SARS-CoV-2.  The only thing you could have alleged to get immunity to was the first fragment of spike protein from the first model."
Dr. Martin adds that through these lawsuits, "we are going to get evidence of the felony" committed by Pfizer and associates, in hopes that Big Pharma's blanket liability immunity falls away and that "all of the injuries and deaths become civil liabilities to the manufacturers."
Sources for this article include: