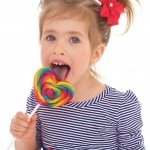 (NaturalHealth365) Halloween is upon us and millions of children (and adults) have a vision of candy corn and chocolate bars – filling up the 'goodie' bowls. But, what if the most popular Halloween treats had a warning label on it – promotes cancer cell growth. Would these junk foods – filled with food additives – still be popular?
Think about it, at the risk of being called a 'health nut', most holiday snacks are filled with non-organic, genetically manipulated ingredients – loaded with artificial colors, GMOs and toxic sweeteners. Don't let your family and friends get duped into wasting their money on Halloween candies loaded with trans fats, chemical preservatives and artificial dyes.
Can these Halloween treats actually cause cancer?
At first glance, most people might accuse us of spoiling the Halloween spirit. But, this is not a joke. Americans consume around 150 pounds of sugar – every year.
Nancy Appleton, author of Lick the Sugar Habit, warns us that the overconsumption of sugar can damage the immune system and endocrine function – which leads to osteoporosis, asthma, diabetes, and periodontal disease.
Without any warning from the candy manufacturers, these sugar (chemical) "treats" can cause problems with blood sugar and lower serotonin levels – the feel good hormone in our body. On top of that, many people suffer with an overgrowth of Candida albicans – which thrives on sugar and all types of refined carbohydrates.
Even so, many people would think it's a strong statement to say that Halloween snacks cause disease – but, in the long run, eating too many simple sugars can cause chronic inflammation, leaky gut syndrome, mood swings and (eventually) chronic degenerative diseases like cancer.
3 Halloween treats that could scare the life out of you
Generally speaking, most commercially-produced, Halloween treats should be avoided like the plague. Today, NaturalHealth365 would like to award the "most disgusting" honors to some of the worst offenders.
Reese's Nutrageous Candy Bar – the ingredients include:
Peanuts; sugar; high fructose corn syrup; vegetable oil (cocoa butter, palm, palm kernel, shea, sunflower and/or safflower oil); chocolate; sorbitol; whey (milk); nonfat milk; dextrose; contains 2% or less of: high maltose corn syrup; milk fat; salt; corn syrup; soy lecithin; whey protein concentrate (milk); sodium caseinate (milk); artificial flavor; mono- and diglycerides; TBHQ (preservative); caramel color
The Reese's Nutrageous Candy Bar is full of unnatural and highly processed food additives. High fructose corn syrup, derived from genetically modified corn – is one of the top offenders in this popular candy, a toxic substance linked to obesity, chronic fatigue and inflammatory-related diseases. It also contains the preservative TBHQ, short for Tertiary Butylhydroquinone. Though it is added to help extend the storage life of Halloween treats and other food, TBHQ is nothing less than a derivative of the chemical butane – which is derived from petroleum.
Second, on our short list of gross treats is 'Charms Blow Pop' – the ingredients include:
Sugar, corn syrup, gum base, starch, citric acid, glycerin, artificial flavors, artificial colors (including FD&C Red 40, FD&C Blue 1), turmeric coloring and BHT added as a preservative.
By appearances, Charms Blow Pops may seem like a harmless lollipop and one of the most beloved childhood Halloween treats. A look at the ingredients, however, tells a more detailed story of artificial colors, flavors and a preservative called BHT, or butylated hydroxytoluene. By the way, BHT is a substance used in jet fuel and embalming fluids, yet the Food and Drug Administration (FDA) deems it as a GRAS preservative, meaning 'generally recognized as safe'.
Since when has it been okay to hand children candy that contains a chemical that was primarily researched in test tubes and animals rather than people?
In addition, we should talk about the ingredients found in "Almond Joy" – really disgusting:
Corn syrup; milk chocolate (sugar; cocoa butter; chocolate; milk; lactose; milk fat; nonfat milk; soy leithin; PGPR, emulsifier); coconut; sugar; almonds (roasted in cocoa butter and/or sunflower oil); contains 2% or less of: partially hydrogenated vegetable oil (soybean and palm oil); whey (milk); cocoa; salt; natural and artificial flavor; chocolate; soy lecithin; hydrolyzed milk protein; sodium metabisulfite, to maintain freshness)
The combination of coconut, chocolate and almonds are enough to put a smile on any child's face. But, while those harmless ingredients are found in every Almond Joy, the candy bar also contains partially hydrogenated vegetable oil, or trans fats. And, yes, trans fats are linked to childhood obesity, diabetes and heart disease.
Why are these products allowed to be sold to the public? The answer to that question is for another day. But, for now, be good to yourself and buy non-GMO, organic treats or give away non-food items – when the kids come knocking at your door.
By the way, if you're interested in watching a thought-provoking video about the true dangers associated with sugar – check out "Sugar: The Bitter Truth" by Robert H. Lustig, M.D.: (it's got over 5 million views)
Reference:
https://science.naturalnews.com/2007/2673488_Chemoprotective_and_carcinogenic_effects_of_tert_butylhydroquinone_and_its_metabolites.html
https://science.naturalnews.com/2001/8410321_Butylhydroxytoluene_BHT_increases_susceptibility_of_transgenic_rasH2_mice_to_lung.html
https://science.naturalnews.com/2009/589085_The_negative_effects_of_hydrogenated_trans_fats_and_what_to.html