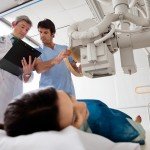 (NaturalHealth365) Physicians pursuing overly aggressive treatment routes are putting cancer patients at risk of serious complications from radiation exposure, including cancer, heart attack and stroke. This kind of blatant disregard for human safety – within the medical profession – must be exposed.
Multiple recent studies led by Duke University found that physicians were pursing aggressive treatment of breast cancer patients using radiation following surgery, despite mounting evidence that such aggressive tactics offered little or no benefit for avoiding recurrence. Instead, research shows that exposure to increased radiation levels can lead to serious health complications, some of them life-threatening.
The lure of money makes conventional oncology dangerous
The practice of using cancer-causing medical radiation to treat breast cancer patients, post-surgery, is driven by a U.S. health care system – which rewards physicians, with lots of money, for promoting this ineffective (often painful) treatment option. In fact, studies have shown that physicians are much more likely to follow recommendations for adding a treatment versus taking away a treatment, unless substituting for another costly 'therapy' – without regard to effectiveness. Sadly, it's all about the money – not a positive patient outcome.
This tendency of modern medicine – in the U.S. – is unlike that seen in the United Kingdom, where there are not the same incentives to pursue costly and aggressive lines of treatment. There, national health systems sets guidelines for medical personnel. The result is that in areas like Great Britain and Canada, shorter courses of radiation have already become the standard. Obviously, such a national standard is lacking in the United States.
Most conventional oncologists are being deceived by junk science
In reality, cancer 'survival statistics' showing the benefits of radiation treatment are often skewed since most are based on a five-year survival rate. Patients can suffer serious health complications leading to premature death due to radiation long after the five-year window has passed. For that reason, radiation is often misrepresented as an effective cancer treatment route.
Ironically, it may be the increased pressure to reduce healthcare costs that could lead to change, rather than the health risks to cancer patients. A 2011 study of 43,000 cases of new low-risk breast cancer patients found that pursuing a route of less or no radiation stacked up to about $164 million in savings.
In truth, the actual savings are estimated to be even higher since the study represented only about 70 percent of the total newly-diagnosed cancer cases.
The real (deadly) threats of cancer are being suppressed
Acute risks of radiation, such as nausea, fatigue and hair loss, are highly publicized. But, much more serious health risks are downplayed or not mentioned at all by mainstream media or cancer organizations.
However, the Journal of the American Medical Association Internal Medicine recently published a research letter showing the increased lifetime risk for breast cancer survivors suffering a heart attack or other major cardiovascular event was as high as 3.5 percent greater.
The New England Journal of Medicine published results of a larger European study, earlier in 2014, found that for every 1 "Gray" (the unit that measures the absorption rate) of radiation, a woman's heart attack risk jumped by 7.4 percent. Plus, complications typically begin within five years of treatment.
Dr. Alphonse Taghian, professor of radiation oncology, Harvard Medical School, and chief of breast radiation oncology, Massachusetts General Hospital, concluded, "Even small doses of radiation can cause trouble."
A similar risk exists for the development of lung cancer. Speaking at the 33rd conference of the European Society for Radiotherapy and Oncology in Vienna, Dr Trine Grantzau (MD) said, "We found that for each Gray delivered to the lung as part of radiotherapy for a breast tumor, the relative risk of developing a subsequent primary lung cancer increased. This increased risk was similar to the reported increased risk of heart disease after radiotherapy for breast cancer."
For patients treated with radiation for a brain tumor, research shows the risk of stroke catapulted to five times the normal rate. Like the risks for heart attack and lung cancer, the increased risk can remain for several decades.
In addition to increased risk of heart attack, stroke and development of new cancer tumors, other late-onset risks include infertility, chronic diarrhea and bleeding due to bowel damage, restricted movement due to scar tissue and memory loss. Obviously, the best treatment option for a cancer patient is deeply personal. Don't be afraid, educate yourself and always make an informed decision.
References:
https://www.health.harvard.edu/blog/radiation-for-breast-cancer-can-increase-heart-risks-2-201310306820
https://archinte.jamanetwork.com/article.aspx?articleid=1761919
https://www.nejm.org/doi/full/10.1056/NEJMoa1209825
https://www.charlotteobserver.com/2014/12/09/5374351/studies-doctors-may-over-treat.html#.VJrF7cABZB