NH365 021: Eliminate chronic fatigue with a 7-day juice fasting program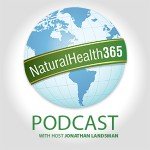 (NaturalHealth365) Are you ready to lose weight, detoxify the body and feel great? Then, you're going to LOVE the Sproutman's 7-Day Just Juice Diet – a well-organized and practical program incorporating juicing and cleansing.
Today, on the NaturalHealth365 Podcast, you'll learn how to boost immune function, stabilize blood sugar, eliminate physical pain and chronic fatigue – naturally. This program is an exclusive interview with Jonathan Landsman and Steve Meyerwoitz, one of the world's leading educators of sprouting, juicing, fasting, wheatgrass, indoor gardening, raw living foods and pure water.
Links related to the show:
1. Click here to order "Sproutman's 7-Day Just Juice Diet" book.
2. Subscribe to the NaturalHealth365 newsletter to receive lots of great health gifts + the latest news and information on natural health solutions.
Start fixing chronic fatigue plus many other ailments with a 7-day juice diet
Juice fasting is a great way to help cleanse and purify the body. As you remove yourself from the toxins found in everyday food, you'll notice a surge in energy and mental clarity.
By following the program (properly), you'll notice how easy it is to lose unwanted – excess – weight quickly and without discomfort. A well-organized juice fast will actually nourish your body more effectively than solid food by making it easier for nutrients to get absorbed into the bloodstream without the need to breakdown solid food material.
Here's what people say about the 7-day juice fast:
"Drinking only raw vegetables and fruits seemed to supercharge my taste buds, and I appreciate my food now so much more. I'm also much more picky about what I'm putting into my mouth!" – Cindy
"Having done three juice cleanses, I'm almost at my ideal weight. I haven't been able to get back to that point in about six years." – Rhona
"I've tried many things and this is the only thing I keep coming back to. It always makes me feel better when I feel sick and downtrodden. Steve Meyerowitz is by far the BEST teacher in this field." – Linda
The benefits of a 7-day juice fasting program
Blood purification
Colon cleansing
Hormone balance
Improved gastrointestinal function
Better nutrient absorption
Relief from allergies, arthritis, chronic fatigue + much more!
After listening to this program, I am sure you will become inspired to take better care of yourself and try the '7-Day Just Juice Diet'. If you're ready to get started, simply click the banner below and begin today: