NH365 020: Dr. Stanislaw Burzynski talks about curing cancer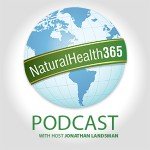 (NaturalHealth365) Since 1967, Stanislaw Burzynski, M.D., Ph.D., an internationally recognized physician and biochemist-researcher, has been helping thousands of people overcome their cancer diagnosis. A pioneer in the development and use of biologically active peptides in diagnosing, preventing and treating cancer, Dr. Burzynski has a remarkable track record – especially with 'incurable' cases of cancer.
On this episode of the NaturalHealth365 Podcast, Jonathan Landsman talks to Dr. Burzynski about how his unique protocol can help reverse cancer. Dr. Burzynski's cancer research and care is inspired by the philosophy of the physician, Hippocrates, to "First, do no harm." His approach to cancer therapy is based on the natural biochemical defense system of the body – which are capable of combating cancer with minimal impact on healthy cells.
Links related to the show:
1. For more information about Dr. Burzynski – visit: CancerMed.com
2. Subscribe to the NaturalHealth365 newsletter to receive lots of great health gifts + the latest news and information on natural health solutions.
Stanislaw Burzynski, MD helps cancer patients to succeed
Kelsey Hill
Kelsey and her family celebrated at this year's Christmas party. Her mom and dad have a lot of reason to celebrate. They never thought they would celebrate Christmas with Kelsey in 2012.
Kelsey had kidney and adrenal (adrenocortical) cancer with metastases to the lymph nodes and lungs. You don't have to be a cancer expert to know that means big trouble. Kelsey was only seven months old, and her family had little hope.
She was in Stage IV when she began her treatment. She is now 7 years old. Her dad confirms she is cancer-free. And Kelsey… she says she wants to be a doctor.
Dustin Kunnari
21-year-old Dustin Kunnari is planning a wedding. We were so excited to hear about Dustin's engagement to his girlfriend Calah. We wish them a long and happy marriage.
Dustin and his parents never thought this day would come. When he was just 2½ years old, there was horrible news. Dustin was diagnosed with medulloblastoma of the brain.
Even if you don't know the medical term, you know its horrible news… Shortly after he began treatment at the Burzynski clinic, Dustin's tumor began to shrink. Initially, doctors did not hold out hope for Dustin. That was more than 18 years ago. Today, the tumor is gone.
More stories of success – below …
Lieutenant Colonel James Treadwell (ret)
In April of 2004, Jim was diagnosed with glioblastoma multiforme grade IV (GBM brain tumor). Other doctors told Jim he had only 3 to 6 months to live.
Imagine the shock for this tough, retired US Marine Corps Lieutenant Colonel. After two unsuccessful surgeries, failed radiation and chemo treatments, Jim started treatment at Burzynski Clinic.
He knew his military fighting days would be nothing compared to his fight to beat cancer. He thought the Burzynski Clinic would probably be his last chance at life. Today, 8 years later, Jim wanted us to know that life is VERY good, and that he is tumor-free.
Why does the conventional cancer industry attack Dr. Burzynski?
Conventional oncology does not 'believe' in Dr. Burzynski. But, beyond personal beliefs, Western medicine has tried everything to stop this man from practicing medicine and helping to save lives. In fact, for well over a decade, Dr. Burzynski has fought with the Food and Drug Administration to keep his therapy alive.
The details of this saga are detailed in Burzynski,the Movie – an internationally acclaimed, award-winning documentary originally released in 2010 (with an Extended Edition released in 2011) that tells the true story behind the persecution of Dr. Burzynski. Watch the movie trailer below:
His victorious battles with the United States government were centered around Dr. Burzynski's gene-targeted cancer medicines he discovered in the 1970's called antineoplastons, which have currently completed Phase II FDA-supervised clinical trials in 2009 and has been given permission by the FDA to begin the final phase of FDA testing–randomized controlled clinical trials.
If you would like to order a copy of the film – visit: eStore.BurzynskiMovie.com